Catherine Tate to perform as 'Nan' again
Catherine Tate to perform as 'Nan' again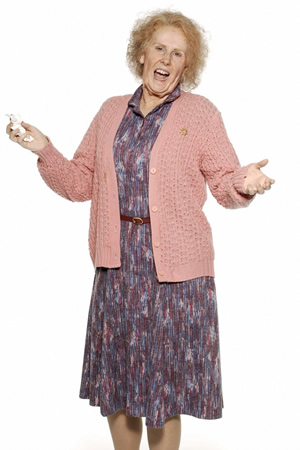 Catherine Tate is set to revive her sweary grandmother character 'Nan' for a new television recording.
Sketches featuring 'Nan' - aka Joannie Taylor - start out with the character being a typical sweet and kind old aged pensioner, before - after a pause and a clearing of the throat - she lets her true feeling be known, with the help of plenty of coarse language.
The character became famous via Tate's BBC Two sketch show, The Catherine Tate Show. The format ran for three series between 2004 and 2006, however Tate continued to perform as the OAP in various Comic Relief specials in the following years. Additionally, for Christmas 2009, BBC One screened the 50 minute special Nan's Christmas Carol. The spoof of the classic Dickens tale attracted an audience of over 7 million viewers.
Tate's latest appearance as the character - whose catchphrases include "what a fucking liberty!" - was on stage at Channel 4's Comedy Gala in 2010.
After a break of three years, Tate is planning to bring back the character. Free tickets have been released for a TV recording called 'Nan', which is taking place at The London Studios on the 22nd October. There will be two recordings on the day, one at 3:30pm and one at 6:30pm. The listing describes the project as "an exciting special featuring Catherine Tate's famous character Nan."
The Sun newspaper has printed a quote from an insider, who reportedly confirmed that Tate has been commissioned by the BBC. The source told the paper: "This is big coup for the BBC as Catherine basically said she didn't want to do any more shows despite six million viewers regularly tuning in. But she loves playing Nan and of all the characters she did in the show, she was the one that struck a chord with most people."
In recent times Catherine Tate has been spending time in America working on the American version of The Office, however her most recent project has been the BBC One sitcom Big School. The comedy, which was co-written by and stars David Walliams, sees Tate play Miss Postern, the French language teacher who causes two teachers to fight for her affections. The sitcom ended last night, with no decision yet on whether the show will be returning for a second series.
At the present time, it is not clear whether Nan is a not-for-broadcast pilot or a one-off show due to be transmitted. Additionally, it is not known whether Mathew Horne - who starred as Nan's grandson Jamie in many of the sketches - will be involved in the new project. Further details are expected to be revealed when the show is recorded.
Below is a sketch from The Catherine Tate Show. It focuses on Nan just after she has returned from a funeral:
Share this page