Fonz star creates CBBC comedy drama Hank Zipzer
Fonz star creates CBBC comedy drama Hank Zipzer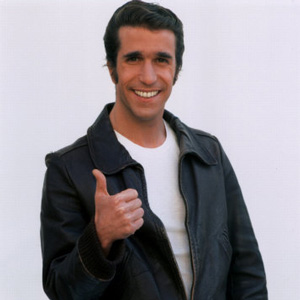 Multi-award winning actor Henry Winkler, best known as The Fonz (pictured) in hit US sitcom Happy Days, is to feature in a brand new comedy drama for CBBC.
The 13-episode series, Hank Zipzer, is based on Winkler's own series of children's books, Hank Zipzer: The World's Greatest Underachiever, created and written with Lin Oliver.
Based on Winkler's own experiences growing up as a youth with severe dyslexia and ADHD, the books follow Henry 'Hank' Zipzer, who is described as "a smart and resourceful boy with a unique perspective on the world".
Producers say: "Hank has dyslexia, and when problems arise, he deals with them in a way no-one else would - putting him on a direct collision course with his teachers and parents, who don't seem to appreciate his latest scheme as much as he thought they would... But, Hank always remains positive and convinced that the next big plan will deliver - after all, tomorrow is another day!"
To be produced by Kindle Entertainment on behalf of DHX Media and Walker Productions - an arm of Walker Books, the UK publisher of the series - the comedy drama will be filmed this Autumn and Winter, for broadcast on CBBC early next year.
Seventeen books have been written and published in the US since 2003, with 10 having been released in UK, since January 2012.
Hank Zipzer will be filmed on location in Yorkshire, with casting details yet to be revealed.
Winkler has played an increased presence on the UK comedy scene over the past few years, having taken on lucrative starring pantomime roles for the Ambassador Theatre Group. He will reprise his acclaimed performance as Captain Hook in Peter Pan again this year, at the Richmond Theatre in south London.
Winkler received an honourary OBE in 2011, recognising his "services to children with special educational needs and dyslexia".
Here is an edition of the BBC's interview programme, HARDtalk, in which Henry Winkler talks to Stephen Sackur about his work, dyslexia, The Fonz, America, and writing.
Share this page