CBBC commissions panel show for kids
CBBC commissions panel show for kids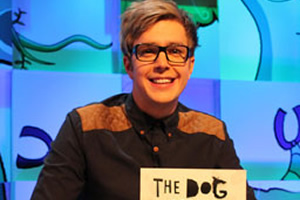 CBBC has commissioned a new panel show format aimed at children.
The Dog Ate My Homework is described as "the show that finally puts the cool back into school".
The ten-part series will be hosted by Iain Stirling. The young stand-up comedian will already be familiar to the channel's viewers, having served as an on-screen continuity links presenter next to puppet character Hacker T. Dog, and as a presenter of shows including Help! My Supply Teacher Is Magic.
The Scottish comedian left his CBBC role earlier in the year to concentrate more on his stand-up career, and most recently performed the show Ian Stirling: At Home at the Edinburgh Festival Fringe. However, at the time of leaving his CBBC role, Stirling did indicate he would be looking to work with the channel again, and he hosted a pilot episode of this new panel show format earlier in the year.
Having now commissioned a full series based on that pilot, CBBC Commissioner Cheryl Taylor, who previously held the role of BBC Comedy Commissioner, has described the series as "the CBBC answer to Mock The Week".
The format will see two teams facing "a mischievous mix of tongue-in-cheek comedy, off-the-wall questions, nonsensical studio games, and slapstick challenges". Each team will be composed of comedians and celebrity guests, with a 'junior sidekick' selected to help too.
The BBC describes The Dog Ate My Homework as "the school-based panel show that lets you down, lets CBBC down, and above all, lets itself down", adding that it is a series which "throws out the text books along with the rule book, and turns everything about school on its head".
The Dog Ate My Homework will be filmed in Glasgow from the end of this month, with recordings starting as early as 8:30am. To apply to be in the audience see our free tickets page
Following the success of Horrible Histories, CBBC is undertaking a commissioning strategy around the ethos "laugh yourself smart". Other comedy formats in development for the channel include a 'geek sitcom' pilot called Totally Square.
Share this page