Jack Whitehall's Bad Education a hit on BBC iPlayer
Jack Whitehall's Bad Education a hit on BBC iPlayer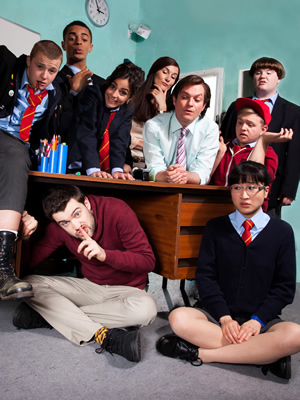 The BBC has announced that Jack Whitehall's school-based comedy Bad Education received a "phenomenal" 1.5 million iPlayer requests over the last seven days.
The programme was put on the BBC's online streaming service a week ahead of its TV broadcast as part of BBC Three's new initiative to premiere all its scripted comedies online a week before they are given a conventional TV broadcast.
The second series of the sitcom officially made its debut on TV last night, with a reported audience of 832,000 in overnight statistics. Equating to a 4.6% share of viewers, it marks a 4.3% rise on last year's figure for the first series, indicating the fan base for the comedy is continuing to grow.
Bad Education, written by Jack Whitehall and Freddy Syborn, focusses on Alfie Wickers, the worst teacher ever to grace the British education system, and a man described as "a bigger kid than his students". The sitcom also stars Mathew Horne, Sarah Solemani and Michelle Gomez.
BBC Three controller Zai Bennett says: "Jack Whitehall's Bad Education is back on BBC Three with a bang, with 832k viewers last night and 1.5m requests on iPlayer over the last seven days. What a fantastic start to our new BBC Three innovation of premiering all scripted comedies on BBC iPlayer. I couldn't be more thrilled with the reception Bad Education's first episode [of Series 2] has received. Giving our viewers more choice in the way they enjoy programmes is a really important initiative on BBC Three and this outstanding result is testament to the quality of Jack's show and how much the audience appreciate it."
BBC Online's Victoria Jaye adds: "We couldn't be more delighted with how fans have responded to us premiering BBC Three's comedy Bad Education on BBC iPlayer - with 1.5 million requests for the first episode in the seven day premiere window. This significant demand on BBC iPlayer and a strong overnight TV audience of 832k on BBC Three demonstrates how BBC iPlayer is a complementary platform to our broadcast channels, enabling us to schedule programmes in new ways that our audience truly values."
With a young target audience, BBC Three's output has always been popular on internet-based iPlayer service. This is most notable in the case of topical show Russell Howard's Good News, which is regularly in the list of most-watched programmes on the service. However, today's news indicates that audiences are willing to stream shows in increasing numbers rather than await a TV broadcast.
Other forthcoming BBC Three scripted comedies - which will also premiere on iPlayer a week before transmission - include Him & Her, Pramface, Some Girls and Cuckoo.
The channel also currently has eight pilots on iPlayer under the Comedy Feeds title. In a separate strategy, the BBC is planning to trial pre-broadcast availability of 40 hours of programming from other BBC channels via the service, with Peter Kay's new sitcom Car Share amongst the programmes due to take part.
Episode 2 of Bad Education is now available to watch on iPlayer. It sees Alfie fighting back against the arrival of a popular new American teacher. Below is a preview clip in which Alfie tries to seduce stern deputy head Miss Pickwell.
Share this page