Charlie Brooker's Weekly Wipe to return
Charlie Brooker's Weekly Wipe to return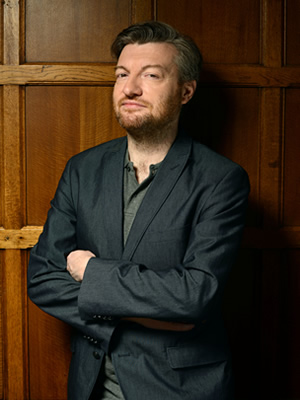 British Comedy Guide understands that BBC Two has ordered another series of Charlie Brooker's Weekly Wipe.
The network has yet to officially announce the commission, but it is understood another run of the topical show will appear on the channel at a later date - potentially early next year, based on the early-2012 broadcast of Series 1.
The first series of Charlie Brooker's Weekly Wipe was shown in January on Thursday nights, launching with over 1 million viewers.
The format, an evolution of the hit BBC Four series Charlie Brooker's Screenwipe and Charlie Brooker's Newswipe, sees the critic and satirist commentating on the latest television and news events, plus computer games and adverts. Each episode of the first series also featured a film review section with studio guests, plus various short sketches and a stand-up comment segment from American comic Doug Stanhope.
Al Campbell and Diane Morgan, who played the fictional, vacuous talking head characters Barry Shitpeas and Philomena Cunk, are also expected to return for the new run.
Charlie Brooker's Weekly Wipe is produced by Would I Lie To You? and 8 Out Of 10 Cats production company Zeppotron, which Charlie Brooker co-founded in 2000.
It is currently a busy time for Brooker. His spoof detective show A Touch Of Cloth is currently broadcasting, with a third case already filmed for broadcast in 2014; and another series of the writer's darkly satirical Channel 4 strand Black Mirror is in production.
However, Brooker has cut down newspaper writing commitments. Having regularly written articles for The Guardian since 2000, including the popular Screen Burn column, in July he published an article explaining why he was planning to write less. He confirmed within the article that he had stopped his weekly commentary "partly because my overall workload was making that kind of timetable impossible, and partly because I've recently been overwhelmed by the sheer amount of jabber in the world: a vast cloud of blah I felt I was contributing to every seven days."
Below is a clip from the first series of Charlie Brooker's Weekly Wipe, in which the host reviews ITV entertainment show Splash!:
Share this page