Alison Steadman to star in Grey Mates sitcom pilot
Alison Steadman to star in Grey Mates sitcom pilot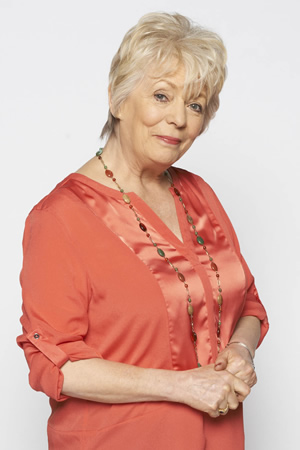 Abigail's Party and Gavin & Stacey star Alison Steadman is attached to a new TV comedy project called Grey Mates.
The Radio Times reports that Steadman will star in a pilot episode of the sitcom, which is based around 'an elderly friendship group'. The comedy will focus on three couples as they meet up for social events.
Set in Norfolk, the comedy has been written by Richard Pinto, whose CV includes The Armstrong & Miller Show, Citizen Khan, Fresh Meat and Goodness Gracious Me.
The sitcom is being pitched to the BBC by producers Hat Trick Productions. The production company's other current sitcoms include Outnumbered, Episodes and the forthcoming new GOLD series You, Me And Them.
It has been noted by some industry figures that commissioners are currently seeking out more comedy shows based around characters above the age of 50. It follows the cancellation of long-running series Last Of The Summer Wine and success of Last Tango In Halifax.
The BBC comedy drama, which follows would-be childhood sweethearts who are reunited after 60 years, attracted audiences of over 7 million viewers late last year. Other new shows in a similar vein include Pat & Cabbage, an ITV sitcom launching next week about two women who have no intention of growing old gracefully.
The full cast list for Grey Mates has not yet been confirmed, but Alison Steadman told RadioTimes.com that she will play the 'chief organiser' of the friendship group which is at the heart of the show, adding that her character would be "the one who bosses everyone about and tells them what they are all doing".
This new role for the actress follows the axing of Love & Marriage, the ITV comedy drama about three generations of the same family, in which Steadman played the family matriarch. Talking about the show's cancellation, she told the magazine: "Who knows who makes these decisions. There are lots of people involved and we just get a Dear John letter. It's very hard. We loved the series and we really felt like a family. We were sort of banking on it going again. It's so lovely and we had such a great time and we were terribly sorry not to do another series. All the cast were very sad."
She added: "It was very hard considering how I get recognised a lot for Love & Marriage - people meeting me in the street and saying how much they loved it as well as Gavin & Stacey."
The pilot episode of Grey Mates will be filmed in September on location in the seaside town of Hunstanton and in a TV studio set. The episode is not expected to be broadcast on television.
Share this page