BBC3 orders chat show starring Jack Whitehall and his Dad
BBC3 orders chat show starring Jack Whitehall and his Dad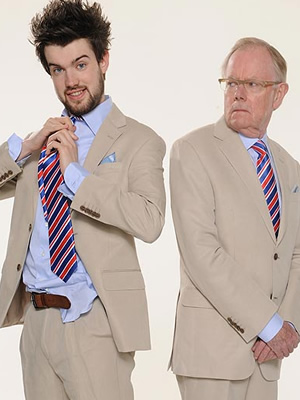 BBC Three has ordered a series of Jack Whitehall's Backchat, a comedy chat show starring stand-up comedian Jack Whitehall and his father, Michael Whitehall.
Produced by Tiger Aspect, a pilot episode of the programme was filmed in October 2012 as a trial. BBC Three boss Zai Bennett confirmed today that he has now ordered a full series.
Backchat sees Jack Whitehall interviewing celebrity guests and taking part in games and sketches with them. Meanwhile his father chips in with his own questions and observations - including criticism of his son's interviewing techniques.
The BBC explains: "Each week Jack will be inviting big celebrity names along for a chat and sketches. Unfortunately his dad will also be throwing in his own observations and questions, as well as giving Jack a telling off for his interview manner. Join the fun as Whitehall junior and senior meet some brilliant celebrity guests in this very unique new comedy show."
Michael Whitehall is a former theatrical agent whose client list featured the likes of Dame Judi Dench. He and his son have previously presented a run of Backchat as a live show at the Edinburgh Festival, where guests included Miranda Hart and Simon Callow.
Speaking to The Sun, Jack Whitehall said: "As hosts go, me and my dad are a bit like Ant and Dec - if Ant was 40 years older and kept telling Dec he was a disappointment to him and should never have dropped out of university."
BBC Three boss Zai Bennett adds: "We've already got one of the best new sitcoms around on BBC Three in Jack Whitehall's fantastic Bad Education. So we're delighted to be the home of his new chat show. With Whitehall senior there to keep Jack on track it promises to be unlike any other chat show on TV right now."
Jack and Michael Whitehall have appeared together on television a number of times already. As the video below shows, the duo won £300,000 for charity playing The Million Pound Drop.
The new series of Bad Education starts on Tuesday 3rd September. Below is the trailer:
Share this page