Sky confirms more Little Crackers and The Kumars
Sky confirms more Little Crackers and The Kumars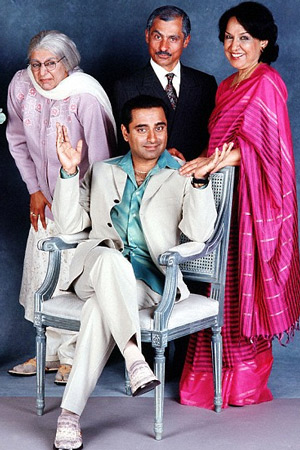 Sky1 has confirmed that it has ordered a new series of The Kumars.
The network has ordered six new hour-long episodes which will be based around the characters from the 2001 - 2006 BBC comic chat show The Kumars At No. 42 (pictured).
Sky confirms: "The multi-award winning much loved television family, The Kumars, will return to television following a seven year absence with a new show coming to Sky1 this winter."
The show will star Sanjeev Bhaskar as Sanjeev Kumar, the man who, with the help of his family, broadcasts a chat show from his own home. Meera Syal will once again be applying make-up to increase her age so she can play the family's outspoken gran, Ummi.
Following a downturn in fortunes, The Kumars are now living in a flat in Hounslow located behind Bimla's Superstore, the homewares and gift shop that Dad, Ashwin, now runs.
Sanjeev is divorced from his wife of nearly two years, Bindiya, but they share custody of their precocious 8 year old daughter. Mum, Madhuri, has returned to India to look after her ailing mother and Ashwin has secured a sponsorship deal with BIMLA CORP, to resurrect the family's talk show.
Each week, the show will feature three celebrity guests who get embroiled in the Kumars' domestic squabbles as Sanjeev fearlessly tries to deliver a great chat show.
Sanjeev Bhaskar says: "The entire Kumar family are very excited to have moved into a new home on Sky1. We are currently repainting the flat in anticipation of great guests, new members of the extended family and anyone else we can get to flog the tat from Dad's shop downstairs. Granny's wind problems are almost under control so all are welcome."
The Kumars will be shown on Sky1 this autumn alongside other new home-grown commissions from the satellite network, including Series 2 of hit sitcom Moone Boy, new sci-fi series Yonderland, Ruth Jones comedy drama Stella and Lee Mack panel show Duck Quacks Don't Echo.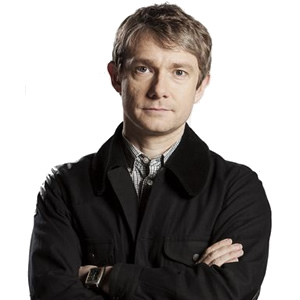 Sky has also confirmed it is making a fourth batch of Little Crackers, the autobiographical short films written by and starring some of Britain's top comedy stars. The line-up for this year's run has not yet been announced, but it is known that Sherlock and The Hobbit star Martin Freeman (pictured) will be returning to his comedy roots as one of the actors featured.
Set in 1977 at Christmas, Martin Freeman will write and direct his 15 minute short about his childhood. He will also star in the episode, playing his own dad.
Sky boss Stuart Murphy has said that Sky's investment in comedy commissioning is working well. He comments: "Sky1 has been on an upwards trajectory for the past four years across every metric - in terms of how much current and future subscribers value it, its total consumption and also in terms of the calibre of talent who work with us, on and off screen. Our major investment in Comedy, which began two years ago, continues to be warmly embraced by viewers, with award winning original Sky comedies sitting alongside brilliant US shows."
Share this page