Channel Dave to launch new show Crackanory
Channel Dave to launch new show Crackanory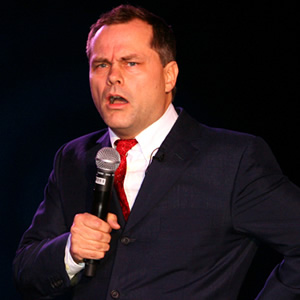 UKTV digital channel Dave has announced a new comedy format called Crackanory.
The network has commissioned six episodes of the show, which is described as "a satirical and twisted grown-up spin on 'story time'."
Produced by Tiger Aspect Productions, each 40 minute episode of Crackanory will contain two tales, each punctuated with a mixture of narrated live action and animation. Each tale will be performed by a different celebrity who, producers say, "will let their dark, comedic minds run wild and put their own enchanting spin on storytelling."
Jack Dee (pictured), Harry Enfield, Sally Phillips and Richard Hammond are amongst the personalities confirmed to be taking part, with more names due to be announced at a later date.
The tales will be written by established comedy writers, with Jeremy Dyson, Nico Tatarowicz, Holly Walsh, Jason Cook and Kevin Eldon amongst those confirmed to be working on scripts.
UKTV's Steve North says: "The art of storytelling is far from dead; in fact Dave's bringing it back bigger and better. Crackanory gives it a brand new, contemporary twist, in what could be described as an ingenious adult adaptation of well-loved children's programme Jackanory. Weird and wonderful tales delivered by the funniest people on television: Dave viewers are sure to find this a delicious combination."
Commissioning Editor Sarah Fraser adds: "I was excited by this bold premise, blending live action and animation to tell these wonderful new stories. It is testament that the idea is a good one in that Tiger Aspect have secured such great names to appear in a first series. Commissioned exclusively for Dave, Crackanory is an exciting addition to our growing slate of original, unusual and talent-led content."
Executive Producer Andy Brereton comments: "We hope the Crackanory chair becomes as famous as the Mastermind one, as we welcome some of the best storytellers in the country to settle into it and tell viewers some incredibly funny, dark and unique tales."
Crackanory will air on Dave later this year alongside new commissions Ross Noble Freewheeling and Dave Gorman: Modern Life Is Goodish.
Share this page