BBC orders another series of Room 101
BBC orders another series of Room 101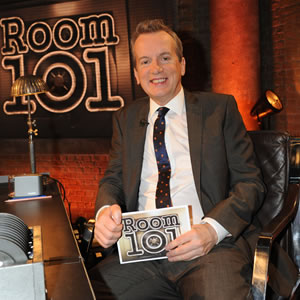 The BBC has ordered a 14th series of panel show Room 101.
The show will retain its recently revamped format, with three guests per episode attempting to convince the host that their pet hates deserve to be consigned to the Orwellian room.
Frank Skinner will be back in the host's chair, his third series in charge of the show.
First hosted by Nick Hancock and then most famously by Paul Merton, the format originally saw the host in conversation with just one celebrity guest in each episode, nominating and chewing over the merits of a number of individual items, hoping to banish them to the hellish depths of 'Room 101' forever.
Having run under that guise from 1994 to 2007, the show returned in January 2012 with Frank Skinner as host. The altered format saw three guests per episode nominating one item each for banishment to Room 101 in each of a number of categories. The guests present their arguments for their chosen object in turn, before Skinner as host decides who has put forward the most convincing case.
The new 8-part series will be recorded on Tuesdays and Thursdays in October at Elstree Film & TV Studios. To apply to be in the audience see our free tickets page
The series is expected to broadcast on BBC One early in 2014.
The previous series is currently being repeated on Sunday nights. Below is a clip in which Jack Whitehall puts forward a case as to why 'Glamping' should be banned:
Share this page