Anthony Head and Eve Myles head up 'You, Me And Them' cast
Anthony Head and Eve Myles head up 'You, Me And Them' cast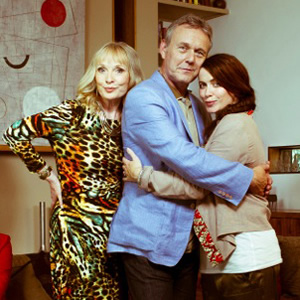 UKTV GOLD has released the cast list for new sitcom You, Me And Them.
Previously known under the working title Us And Them, the scripted comedy tells the story of a couple who are madly in love despite a 20 plus-year age gap and their opinionated friends and families.
Anthony Head (pictured right) will take on the lead role of Ed, with Eve Myles (pictured below) as his younger partner, Lauren. Head's previous comedy roles include appearances in Little Britain; as Will's dad in The Inbetweeners Movie; a boss in Channel 4 comedy Free Agents; and as the evil Mr Gently Benevolent in Radio 4's hit sitcom Bleak Expectations.
Eve Myles, meanwhile, is best known to date for drama roles. She played feisty Gwen Cooper in Torchwood, Sarah in Baker Boys and recently took the titular lead role in district nurse drama Frankie.
Lindsay Duncan (Alice In Wonderland, White Heat, Margaret) will play Ed's ex-wife who lives just next-door, with Susie Blake (Mrs Brown's Boys, Great Night Out) as Lauren's disapproving mother, Emma.
Other stars joining the cast include Jeff Rawle (Drop The Dead Donkey) as Lauren's father Clive; Daisy Beaumont (Star Stories) as her sister, Debs; and Marcus Garvey (Four Lions) as Keith, Debs's husband.
Nigel Betts, who is best known as Eddie in Emmerdale, will take on the role of Ed's loveably hapless brother Alan, with whom Lauren and Ed share a home.
You, Me And Them has been written by Steve Turner. The show is being made by Hat Trick Productions, the company behind sitcoms Outnumbered, Drop The Dead Donkey and Some Girls, plus panel show formats like Room 101.
The producers explain: "Ed's ex-wife repeatedly refuses to leave the couple in peace and Lauren's family are constantly meddling. Even Ed's friends are convinced Lauren is a trophy girlfriend. You can choose your partner but you can't choose your family. Will there be triumph in the face of adversity? You'll have to wait and see."
No broadcast date has yet been set for the six-part series, but it is expected to be shown towards the end of the year. The commission of the programme is part of the UKTV network's investment in its own programming. The investment drive has already seen a revival of 1980s sitcom Yes, Prime Minister, and sitcom-trivia panel and chat show, Jo Brand's Great Wall Of Comedy on the network's flagship channel, GOLD.
Share this page