Blackadder in Colditz Castle idea revealed
Blackadder in Colditz Castle idea revealed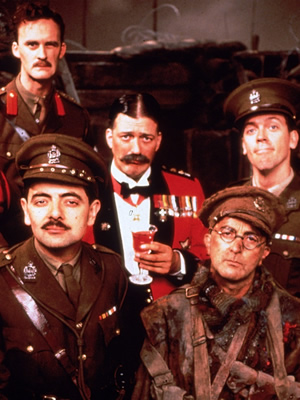 The idea of setting a new version of hit sitcom Blackadder in the German prisoner-of-war camp Colditz Castle has been revealed.
The show's producer John Lloyd revealed that he and star Rowan Atkinson had the idea of making either a new series of the show, or a feature film, based around the World War II setting.
However. it should be stressed that the project is only an idea and unlikely to proceed, with Lloyd admitting that all those involved in the programme have their own projects to concentrate on.
Speaking on BBC Breakfast this morning, Lloyd said: "Rowan and I had this great idea - because we're all getting a bit old now - of doing a 'Dad's Army', that they [the characters] are a platoon in Walmington-on-Sea, and they get kidnapped by a German submarine and taken to Colditz and they all have to escape."
He added: "Tony Robinson is probably very nearly 70 now and it would be just about the right age, and I think quite funny, don't you?"
Asked to clarify if this idea was specifically in relation to the Blackadder show, Lloyd said "Yeah, that was the thought, it'd make a good movie, don't you think?"
Written by Richard Curtis and star Rowan Atkinson, The Black Adder launched on the BBC in 1983. Following a lukewarm reception to the first series, the programme was re-tooled as a sitcom set in the 1550s with Ben Elton replacing Atkinson on the writing team.
The show took off and further series followed, with the third run set in the Regency era and the fourth based in the trenches of World War I. The show is now one of the country's most popular television series. A major TV poll in 2004 saw it voted as the second greatest British sitcom of all time, behind Only Fools And Horses, whilst an internet poll last year saw it voted the best British television series ever.
The show's last episode was Blackadder Back & Forth, a one-off special produced for screenings at the Millennium Dome in 2000 by Sky1. However, the show's central character lives on. In November last year, Atkinson appeared as Sir Edmund Blackadder, chief executive of a bailed-out bank, in a live sketch at We Are Most Amused, a comedy gala night in aid of the Prince of Wales's charity.
This is not the first time a new series of Blackadder has been suggested. In 2011, whilst promoting Johnny English Reborn Atkinson said of the show: "It could be reprised in some form or other. I think there is a possibility of a fifth series", adding "We're all getting a bit old, sadly, to play the characters in the way we did so we'd have to shift it a bit to make it work. They've all got slightly different attitudes and experiences to call upon now. It would be nice to get them all back together."
He also explained, "Generally speaking, Blackadder seemed to work best when there was a sort of claustrophobic world and a hierarchy. So if you can think of any situations in which they are dominant - then I think there is a possibility of a fifth series."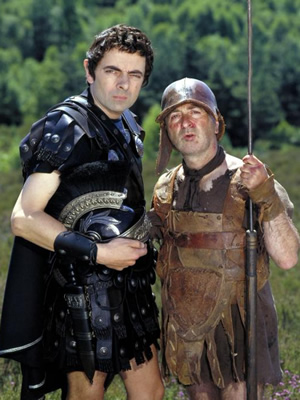 Paying tribute to the show's cast today, Lloyd said: "It was an amazing team of people - in that rehearsal room [the Blackadder TV rehearsals] are half a dozen of the most intelligent, funniest people in the world probably, and you think how well they've all done in their own right, and it was very lucky to have them all in the same place."
Indeed, the main Blackadder cast have all gone on to have extremely successful careers. Rowan Atkinson, who played the central role of Blackadder, is now one of the world's most famous comedians thanks to Mr Bean and his film roles, with an estimated world audience of nearly 1 billion watching his performance at the opening ceremony of the Olympic Games.
Tony Robinson, who played dogsbody Baldrick across all four series, has spent much of the past two decades promoting history with programmes such as the hugely successful Channel 4 archaeology series Time Team. He was awarded a knighthood in June for public and political service. Atkinson was awarded a CBE in the same Queen's Birthday Honours list.
Tim McInnerny, who played dim-witted Percy in the first two series and Captain Darling in the fourth, has appeared in many theatre productions, TV dramas and films since Blackadder, including a role in Atkinson's Johnny English film franchise.
Meanwhile, Hugh Laurie became the world's best paid and most-watched drama actor after taking the lead role in US television series House. He has now moved back the UK, and is currently concentrating on a blues music career, but is scheduled to play a villain in the 2014 Hollywood sci-fi movie Tomorrowland.
Stephen Fry has gone on to become one of the UK's best known presenters, and has just filmed an eleventh series of QI, the comic panel show created and produced by John Lloyd.
Lloyd was talking to BBC Breakfast to promote his Edinburgh Fringe show Liff Of QI. As the producer of the much loved 1980s sketch show Not The Nine O'Clock News, he also spoke in the interview about how he thought it was important to have comedy shows which provide a "cheeky comment on the news", and how he was worried how TV is now "a bit concerned what everyone else thinks".
Here is his interview in full:
Following the name of the new Royal Baby being announced as George, clips from the third series of the show starring Hugh Laurie as Prince George have been circulating the internet with greater frequency. Here's one such video:
Share this page