Ardal O'Hanlon to star in Channel 4's London Irish
Ardal O'Hanlon to star in Channel 4's London Irish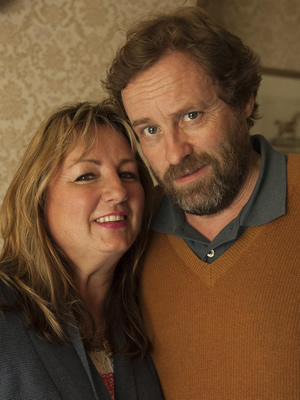 It's been revealed that Ardal O'Hanlon is to appear in new Channel 4 comedy London Irish.
The show, which is about 'a hard-drinking, hard-living ex-pat community of Northern Irish 20-somethings' living in London, has been written by Lisa McGee.
O'Hanlon has previously starred in sitcoms including Blessed, My Hero and, perhaps most notably, played the role of Dougal in Father Ted. In London Irish he will play the father of Conor and Bronagh, two of the main characters in the show. His wife in the programme will be played by Tracey Lynch (pictured, with O'Hanlon).
O'Hanlon has just finished filming his scenes for the sitcom. He says: "London Irish is a fresh, cheerfully outrageous, no-limits comedy. There isn't a taboo that goes unexplored. I'm delighted to play Da who's oblivious to all that. The writing is fearlessly funny and the cast ridiculously charismatic."
The four main members of cast are: Kerr Logan, playing Conor; Sinead Keenan as Bronagh; Kat Regan is Niamh; whilst Peter Campion will take on the role of 'Packy' (aka Patrick).
London Irish is described as a programme that follows four friends trying to navigate their way through London life, a tough task considering "they're too drunk to know where they're going, or remember where they've been. If there had been a plan, it wouldn't have been this. They have shit jobs, no money, and are surrounded by English people."
When it was announced in March, the show came under some criticism, with articles in The Huffington Post, The Mirror and The Independent questioning whether the show was 'racist' in its depiction of the capital's Irish population.
However, the controversy has since died down, with a Channel 4 spokesperson saying at the time: "London Irish is written by Derry-born Lisa McGee and is loosely based on her and her friends experiences of being Irish living in London, with a pinch of comedic exaggeration. It is a highly authored piece and not a generalisation of all Irish living in London."
Writer Lisa McGee says: "Ultimately, it's a show about young people, who value having the craic above everything else. The characters are children of the peace process, living in one of the greatest cities in the world and they want to have a good time. Yeah they're screwed up, they drink too much, they swear too much... but I really hope people watch the show and think, 'I don't half want a night out with that lot' and love watching these four characters as much as I love writing for them."
The six episodes of London Irish will be shown on Channel 4 in the autumn.
Share this page