E4 orders second series of The Midnight Beast
E4 orders second series of The Midnight Beast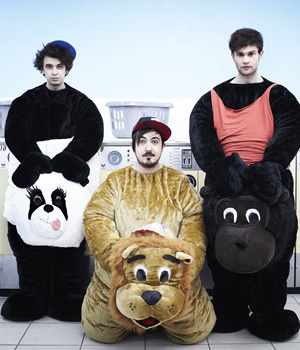 The Midnight Beast, the E4 sitcom about a struggling band, has been given a second series.
The comedy - which stars popular YouTube performers Stefan Abingdon, Dru Wakely and Ashley Horne, who go under the name The Midnight Beast - will return for a second series next year.
The Midnight Beast rose to fame via their comic music videos on YouTube, with their first creation - a parody of Tik Tok by Ke$ha uploaded in December 2009 - having now been viewed more than 14 million times.
The band, which has a predominantly teenage fanbase, have gone on to perform many sell-out live shows and continue to grow their YouTube subscriber base and Twitter followers.
The Midnight Beast, their TV sitcom, follows the fictional adventures of the musical trio as they live in a run-down flat. The series observes the band having to cope with day-to-day challenges such as trying to impress girls when they have no cash. The action is intercut with music videos in the band's trademark style.
The first six-part series was launched in July 2012, with a stunt performance broadcast live on the channel in the build-up to the show.
Other characters in the first series of the comedy included Sloman (Simon Farnaby - Horrible Histories), the band's perverse neighbour; Chevy (Ryan Pope), their useless drugged-up manager; and Zoe (Sophie Wu), Stef's long-suffering girlfriend.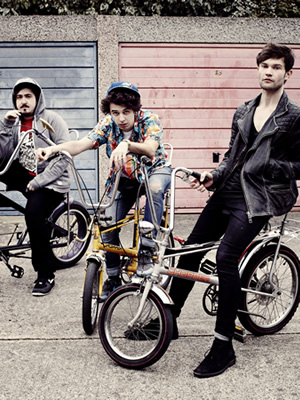 For the second series the band will continue to "staple their songs and stupid real-life experiences together", but this time "they've fallen on hard times and are having to earn their keep in an ex-Bingo Hall run by a fearsome 'EastEnd Granny' and her two grand-daughters. As the Beasts live in hope of one day becoming the venue's house band, their lives will once again be thrown into mayhem and push them to their limits."
The new series will be overseen by lead writer Tom Edge, and writing teams Nathan Auerbach & Daniel Berg, and Daran Johnson & Joe Parham.
The stars say: "Yet again for some unknown reason E4 have given us a playground to fill up with all kinds of ludicrous shit... DID THEY SEE THE FIRST SERIES? Since they told us we've been hard at work in our laboratory carefully crafting the most outrageous musical comedy cocktails set to blow up in some faces...
"Are we excited? Yes. Will we be getting back old friends? Yes. Will we be putting our dicks in socks again? Probably not... That's so 2012. Will we be releasing a brand new album coincided with the show that we'll be shamelessly plugging from this day forth? Well of course we will. Round two DING, DING, DING."
Channel 4's Nerys Evans, who re-commissioned the series, said: "We're really thrilled to be working with the Beasts on another series, as well as the clever people at Warp, we're delighted that there's going to be even more music and mischief to come from this talented trio."
The six new episodes will be filmed this autumn and will be shown on E4 in 2014.
Here is the video the band posted to announce Series 2 to their YouTube fans:
And here is Medium Pimpin', one of the musical videos taken from the series:
As befits the group's status online, the first series was supported with lots of extra online-only material. Here is one of the behind-the-scenes videos:
This story was edited on Friday the 26th of July to add in the official confirmation and quotes.
Share this page