Channel 4 confirm Bad Sugar series cancellation
Channel 4 confirm Bad Sugar series cancellation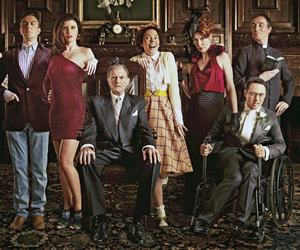 The full series order for Bad Sugar has been cancelled, it has been confirmed.
Rumours of the soap spoof's demise have been circulating for months, but Channel 4 has only today confirmed that the comedy, from Peep Show creator-writers Sam Bain and Jesse Armstrong, will now not go to a full series.
A pilot for the comedy, a spoof of the 'telenovela' strand of over-the-top soap operas popular with Latin American audiences in particular, was broadcast during August 2012 as part of Channel 4's Funny Fortnight 30th birthday celebrations.
Written by Bain and Armstrong, the show starred and was co-created by Olivia Colman, Julia Davis and Sharon Horgan.
The comedy A-list cast was completed by Peter Serafinowicz, Reece Shearsmith, David Bradley, Kayvan Novak and Julia Deakin.
A Tiger Aspect production, the series has been cancelled as it had proved impossible to get the highly-demanded cast and writers together at the same time in order to commence production.
Olivia Colman has become particularly hot-property after a series of acclaimed film and television roles - and associated award wins - whilst Horgan is currently working on a US remake of her BBC Three sitcom, Pulling.
Meanwhile, Bain and Armstrong have been working on a third series of comedy drama Fresh Meat, and also plan to return to Peep Show for another series. Movie versions of both comedies have also been mooted.
Channel 4 also confirmed today that a full series of fellow Funny Fortnight pilot, Toast, will launch in October.
Share this page