C4 confirms 8 Out Of 10 Cats Does Countdown series
C4 confirms 8 Out Of 10 Cats Does Countdown series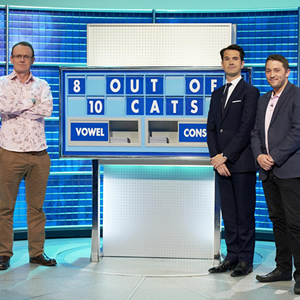 Channel 4 has ordered a full series of crossover comedy quiz 8 Out of 10 Cats Does Countdown.
It has been known for a number of months that the channel is due to film more specials of the hybrid format, but today the network officially confirmed the commission of a series of six new episodes.
The cross-over format was first seen in January 2012 as part of The Channel 4 Mash Up, a night of programming in which various popular Channel 4 shows were merged together. The episode, in which the regulars of topical comedy quiz show 8 Out Of 10 Cats played long-running words and numbers brainteaser game Countdown, proved very popular, prompting a second to be made for Channel 4's Funny Fortnight later in the year.
The team went on to make a Deal Or No Deal special at the start of 2013, then two further episodes of the Countdown hybrid were screened in April, attracting ratings above the slot average, with more than 2 million viewers tuning in for the premiere broadcast of one episode.
The new series will see Jimmy Carr resume his role as host, with 8 Out Of 10 Cats team captains Sean Lock and Jon Richardson playing the game.
As in the previous specials, Countdown's Susie Dent will be in Dictionary Corner, with Rachel Riley looking after the letters and numbers. Riley, who recently completed her 1,000th episode on the daytime quiz show, will again be 'assisted' in the specials by comedian Joe Wilkinson.
Guest comics will also take part in dictionary corner in each episode, as well as join Richardson and Lock to create each two-person team. Comics lined up to take part across the run include Sarah Millican, Jack Dee and Rhod Gilbert.
Some episodes have already been filmed, with former 8 Out Of 10 Cats team captain Jason Manford a guest on one episode, recorded last night. Writing on Facebook, he said: "Well 8 Out of 10 Cats Does Countdown was good fun, completely ballsed up one of the numbers but really laughed at Sean, Jon, Rhod Gilbert - and even Danny Dyer was hilarious. Susie Dent was lovely and clever and Rachel Riley, well, put it this way, Countdown is now on series link!"
Channel 4's Madeleine Knight says: "Originally commissioned as part of the Channel 4 Mash Up night, 8 Out of 10 Cats Does Countdown has proved it deserves a run of its own. This combination of two of Channel 4's favourite shows brings together the best of both. It's a treat."
Ruth Phillips, from production company Zeppotron, adds: "It's such a treat for us to be making more of 8 Out of 10 Cats Does Countdown, not least because Countdown is such a robust format to have fun with. The combination of both shows means viewers get to play along so it really is something for both quiz and comedy fans alike."
Countdown is an ITV Studios format, and the series is a co-production between them and 8 Out Of 10 Cats' producers, Zeppotron.
The six part series will be shown on Channel 4 this summer.
Below is a clip from one of the previous shows in which Jimmy Carr in which Sean Lock struggles to make a word:
Share this page