BBC Four orders new dog training sitcom
BBC Four orders new dog training sitcom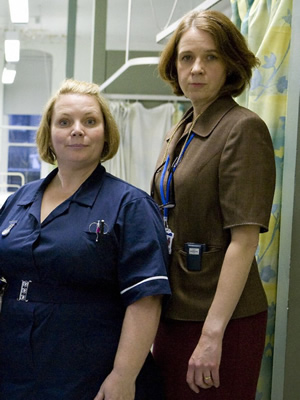 BBC Four has confirmed the commission of new sitcom Puppy Love.
Described as "a story of love, dogs and the love of dogs", the show has been written by and will star Joanna Scanlan and Vicki Pepperdine. The duo have also previously starred together in the BAFTA and RTS Award winning Getting On (pictured), which comedy commissioner Shane Allen announced today will not return.
A brand new six-part sitcom, Puppy Love will be set around a Wirral-based dog training class run by the formidable Nana V (Scanlan). The show will also observe Naomi Singh (Pepperdine) and observe as the two characters "navigate their headstrong dogs, impossible teenage kids and disappointing husbands".
Scanlan and Pepperdine filmed a pilot episode of Puppy Love in The Wirral in March. Shane Allen says: "Puppy Love both celebrates and sends up the deeply held relationship between dogs and their owners. This is a real passion piece from Jo and Vicki who have yet again succeeded in creating a wonderful set of characters."
The show will be directed by Susan Tully, who also worked with the pair on Getting On. It will be produced in-house by the BBC (in conjunction with Woof Productions) by Benidorm producer Jo Willett. The executive producers have been named as the BBC's Saurabh Kakkar and David Baddiel. It is believed this will be Baddiel's first Executive Producer role on a comedy he has not directly written himself.
The news of this commission appears to confirm that new BBC Television boss Danny Cohen has reversed the corporation's decision to retreat from comedy production for the high-brow digital channel.
Other recent BBC Four comedies have been Quick Cuts and Up The Women. The latter, which features Pepperdine in a lead role, has been re-commissioned and promoted to BBC Two for its second series. Meanwhile, Joanna Scanlan will soon be seen in David Walliams's BBC One sitcom Big School.
Puppy Love will be filmed later this year.
Share this page