Horrible Histories to continue with specials
Horrible Histories to continue with specials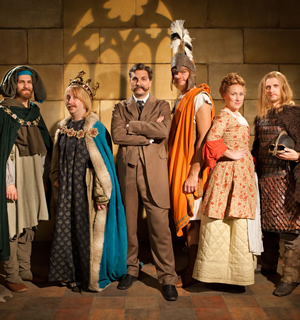 Childrens' factual comedy series Horrible Histories is to return to screens with a number of themed special episodes, it has been revealed.
The multi-award winning sketch show is currently nearing the end of its fifth and final series on digital channel CBBC, but an extended special focusing on the First World War will be broadcast this Autumn.
The 45-minute episode will be shown in the run up to the BBC's wider commemoration of the 100th anniversary of the Great War, which occurred between the end of July 1914 and November 1918.
A mix of old and new material, the special will include a new sketch based on the famous moment when the English and German armies put down their weapons to play football during Christmas 1914, reports BroadcastNow.
Richard Bradley, managing director of the series' co-production company, Lion TV, told the Children's Media Conference in Sheffield that the Horrible Histories team is currently looking at the possibility of producing further specials, particularly to mark landmark dates.
The 800th anniversary of the signing of Magna Carta, which will fall in June 2015, is said to be a prominent possibility.
The main cast of Horrible Histories are currently filming a comedy-fantasy series, Yonderland, for Sky. They are also due to reunite for a feature film, Bill, about playwright William Shakespeare.
Meanwhile, Cheryl Taylor, former BBC comedy commissioner and now controller of CBBC, told the conference that a replacement for Horrible Histories was at the front of her mind, but did not want a mere "pale imitation".
She also spoke of her desire to find a studio sitcom for the childrens' channel, as well as a female equivalent of popular acting and presenting double-act Dick & Dom, and a new comedy series in the vein of Mr Bean.
This popular musical performance from Horrible Histories Series 4 spoofs modern boy-bands to tell of the brave endeavours of the RAF during World War II:
Share this page