Sky developing Sheridan Smith comedy
Sky developing Sheridan Smith comedy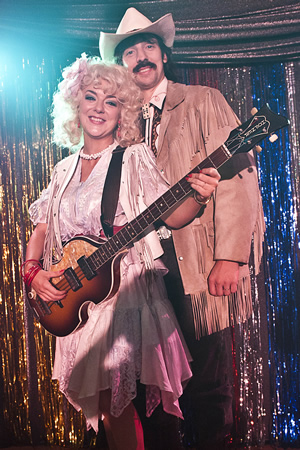 Sky1 is developing a new comedy series starring Sheridan Smith.
The Daltons first emerged as part of the second series of Sky1's Little Crackers strand, broadcast in December 2011.
The original 1987-set episode featured Smith alongside former Two Pints co-star Ralf Little (pictured) as a country music duo who are also husband and wife, with a young daughter keen to join them in the spotlight.
As with many other Little Crackers, the programme is autobiographical. Sheridan Smith's parents are a country and western duo who perform under the name The Daltons, and she was indeed eager to join them on the stage from a young age.
The 11-minute short was written by Michael Wynne and produced by Lucky Day, based on Sheridan Smith's stories and memories.
It followed the young Sheridan's attempts to drive away a particularly stern baby-sitter and be allowed to join her mother and father performing for the first time. The programme included a cameo appearance from her parents as themslves, performing on stage with Sheridan in 2011.
If formally commissioned, The Daltons will be the third series to come from the festive Little Crackers series of one-off comedies, following Chris O'Dowd's Moone Boy and Kathy Burke's Walking And Talking.
Meanwhile, Sky Arts 1's similar Playhouse Presents vein of comedy and drama pilots has just broadcast a full series of sketch show Psychobitches, first piloted last Summer, and will see a second run of A Young Doctor's Notebook, which launched without a pilot episode, later this year.
BroadcastNow reports that Sky entertainment channels boss Stuart Murphy announced The Daltons at the Broadcast Commissioning & Funding Forum. The executive also confirmed at the industry event that Sky would be continuing to look for new comedy formats, on top of its existing recommissioning rate of around 75%.
Forthcoming new comedies include Chickens, Duck Quacks Don't Echo and Yonderland, whilst established hits include Stella and Trollied.
Comedy commissioner Lucy Lumsden is said to now be on the look-out for a big sitcom for Sky1 featuring a well-known star, with Miranda Hart's hit BBC sitcom and Lee Mack's long-running Not Going Out given as examples of the style of sitcom the channel is looking for.
Sky is also continuing to invest in comedy for its other channels. As previously reported, Alan Partridge's Mid Morning Matters, Mr Sloane, Set List and This Is Jinsy will all be seen on Sky Atlantic, whilst Sky Living is working on new shows Doll & Em, Give Out Girls and Trying Again.
Broadcast reports Murphy is not looking for big ratings from the shows commissioned, instead insisting: "I'd rather be responsible for nine peoples' favourite thing rather than 100 peoples' ninth favourite thing."
Sheridan Smith's original Little Cracker was dedicated to her elder brother, Julian, who died of cancer in 1989, aged just 18.
Further news on the development of The Daltons is expected later in the year. Below is a video clip in which Sheridan Smith talks about her Little Crackers pilot:
Share this page