Way To Go scrapped by BBC Three
Way To Go scrapped by BBC Three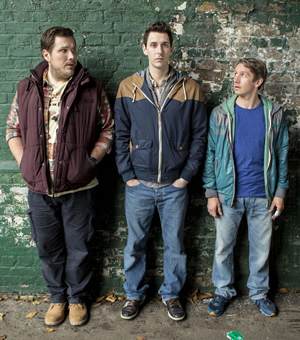 Way To Go, a recent BBC comedy about an assisted-suicide business, will not return for a second series.
The sitcom was created by, and three of its six episodes written by, Bob Kushell, an American writer and producer whose credits include Charlie Sheen sitcom Anger Management, long-running extra-terrestrial comedy 3rd Rock From The Sun, and Samantha Who?.
Way To Go starred The Inbetweeners' Blake Harrison and sitcom newcomer Ben Heathcote as brothers Scott and Joey, with Marc Wootton as their close friend, Cozzo.
It followed the trio's adventure into the euthenasia-suicide business after a terminally ill neighbour of Scott's begged for help to die on his own terms, rather than in great pain. Faced with a unique set of work, life and relationship circumstances, the three twenty-somethings found themselves helping a succession of clients to expire peacefully.
The series ended on a cliffhanger, with Cozzo's policewoman wife, Debbie, seeming to have cottoned on to something not-quite-right in her husband and his friends' lives. The cancellation of the series will leave fans guessing as to what may or may not have happened next.
Broadcasting during January and February earlier this year, the six-part series opened with a series high of just 420,000 viewers in overnight ratings for BBC Three.
An insider hinted to British Comedy Guide that Way To Go's fate was sealed after creator Kushell invited Twitter followers to email BBC Three controller Zai Bennett's office directly to express support for a recommission, rather than through the corporation's regular audience feedback channels.
Meanwhile, BBC Three is expected to confirm the return of prank-dare show Impractical Jokers within the next fortnight, and has launched its second batch of online comedy pilots, now titled Comedy Feeds, today.
The channel has also confirmed the recommission of Bluestone 42, its recent military bomb disposal comedy.
Here's the original trailer for Way To Go. The series is already available to buy on DVD.
Share this page