BBC Three orders Impractical Jokers Series 2
BBC Three orders Impractical Jokers Series 2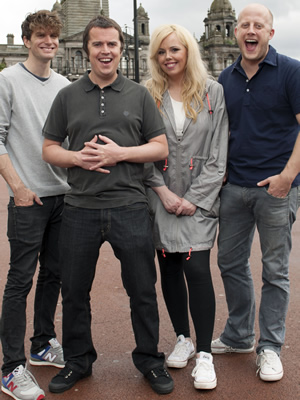 British Comedy Guide understands that BBC Three has ordered a second series of Impractical Jokers, the hidden camera comedy show in which four comedians set each other embarrassing dares.
Starring Roisin Conaty, Joel Dommett, Marek Larwood and Paul McCaffrey, the format sees the four comedians attempting to embarrass each another in every day situations. The comedians take it in turns to go out amongst the public, with the others issuing instructions via a hidden earpiece. If an instruction is ignored, they must undergo a humiliating forefit.
Examples of the dares in Series 1 included the comedians having to try to convince complete strangers to take 'a ridiculous amount of photos' of them, posing as bouncers at a nightclub, and stealing food from customers' plates in a restaurant.
Based on a hit American television format of the same name, the Yalli Productions series was first seen as part of BBC Three's online pilots strand, Feed My Funny, published on Monday 2nd July 2012.
The success of the online pilot lead to a full six-episode series being produced, which was broadcast during November and December. Its popularity has seen the series repeated twice already, with the most recent run completed earlier this month.
A source told BCG: "Impractical Jokers proved really popular with BBC Three's key demographic, so a recommission has been seen as a distinct possibility for a while. It's going to be fun to see what stunts the comedians set each other this time - let's hope they remain friends still after pushing each other through yet more embarrassing moments."
BCG understands all four comics will return for Series 2, having attended a pre-production meeting during June. Series 1 was filmed in cities including Edinburgh and Brighton, but it is not yet known which locations will be used for Series 2.
The second series of Impractical Jokers will be shown on BBC Three later this year. It should be noted that neither the BBC or Yalli Productions have confirmed the recommission, but they are expected to do so shortly.
Below is a clip from Series 1 in which Marek Larwood is given tasks as he tries to draw a caricature of a member of the public:
Share this page