GOLD commissions Two Ronnies documentary series
GOLD commissions Two Ronnies documentary series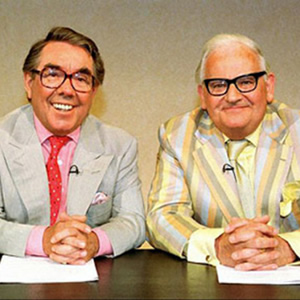 Digital channel GOLD has announced it has commissioned The Two Ronnies Spectacle, a new documentary series exploring the joint work of Ronnie Barker and Ronnie Corbett.
The three-part series is described as aiming to give "comedy-lovers a charming insight into two of Britain's most interesting and well-loved comedians."
The show, which will include rarely seen footage of the duo, will also feature an exclusive interview with Ronnie Corbett. The programme will follow Corbett as he visits the Victoria & Albert Museum to unearth stored personal memorabilia of Ronnie Barker - artefacts that have not been seen on TV before.
Additionally, each episode will contain "numerous classic sketches from their BBC primetime series, alongside rare material from the UK and abroad". Contemporary comedians, who are fans of the duo's work, including Stephen Mangan, Al Murray and Clive Anderson, will also take part.
The series will be made by North One Television, the same production company that made Bring Me Morecambe And Wise, a similar format documentary series, for GOLD last year.
GOLD's Julie Swanston says: "I'm excited to be celebrating Ronnie Corbett and Ronnie Barker's illustrious career together. The Two Ronnies Spectacle provides a fantastic insight into one of Britain's best-loved comedy double acts and it's great to have Ronnie Corbett working with us. It leads on perfectly from Bring Me Morecambe & Wise on GOLD last year and further adds to the exclusive comedy slate the channel is continuing to create."
GOLD's General Manager, Steve North, adds: "The Two Ronnies Spectacle will fit in perfectly with the channel's brilliant new commissions and it is testament to the channel's quality new programmes. After creating a definitive piece around Morecambe and Wise last year, to be working with another of Britain's favourite double acts is incredibly exciting."
This will not be the first retrospective based around the partnership. The Two Ronnies: The Studio Recordings aired un-edited takes in 2010, and in 2005 the duo presented a highlights series called The Two Ronnies Sketchbook. It was to be Barker's last television project, dying on the 3rd October of 2005, before the final episode, a Christmas special, had been shown.
Below is 'The Confusing Library' sketch starring the duo:
And here is 'Fork Handles', arguably their most famous sketch:
Share this page