Smack The Pony to return?
Smack The Pony to return?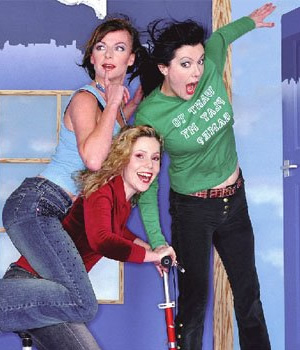 Smack The Pony, the female-led TV sketch show that ran on Channel 4 from 1999 until 2003, could return for another series.
Speaking to The Radio Times, Doon Mackichan, who was one of the show's three main stars, said they were preparing to pitch the idea of returning to the sketch show ten years after it last aired.
Mackichan, who starred alongside Sally Phillips and Fiona Allen, told the TV magazine the team were writing new material and "getting the pitch together".
She added: "So much has happened to us all, as mothers and women, there's a lot that is funny about where we are now. There are years of pain to draw on."
However, it is not yet known whether Channel 4 executives will be interested in reviving the series. Mackichan commented: "We will have to wait and see what happens and whether they will want to bring it out of the stable. But we would love to get the old nag out again."
She added: "It requires a lot of writing, but we have always been accosted by people who say they want it to come back and so many people have their favourite Smack The Pony sketch. Whenever it is repeated I get recognised more in the street."
Smack The Pony ran for 23 episodes across three series between 1999 and 2003, with regular themes running amongst many one-off sketches including The Oblivious Women, Irritating Flatmate and Dating Agency Videos.
Doon Mackichan was talking to The Radio Times to promote Quick Cuts, her new BBC Four sitcom, which starts next week. Mackichan is also due to appear in the Toast Of London series and in the autumn will head to Bulgaria to film the second series of ITV2 sitcom Plebs.
Below is one of the sketches from Smack The Pony, which made it onto Channel 4's 50 Greatest Comedy Sketches list:
Share this page