ITV2 orders second series of Plebs
ITV2 orders second series of Plebs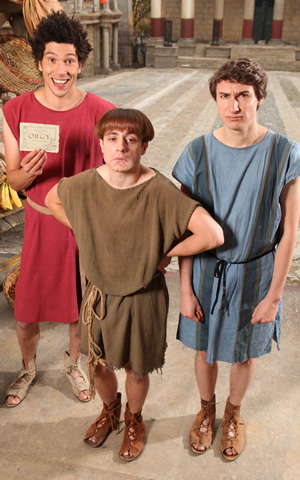 British Comedy Guide understands that ITV2 is to order a second series of Plebs, its Ancient Rome-set comedy.
The sitcom, which stars Tom Rosenthal, Joel Fry and Ryan Sampson as three young men living in Ancient Rome, is described as "a thoroughly modern comedy in an ancient setting".
Plebs focuses on Marcus, Stylax and their lazy slave with an attitude problem, Grumio. Scenes in the first series, which aired in March and April of this year, included the trio attending a gladiator match, and a visit to a sexual health clinic for one of the characters.
News of a recommission has been expected since the first series finished, as the sitcom performed well for ITV2, the network's female-orientated digital channel. The opening episode scored ratings of 900,000 viewers, rising to a consolidated audience figure of 1.7m with repeats and ITV Player views also counted.
The programme also picked up positive comments from TV critics, with the majority of press reviews being favourable.
Writers Tom Basden and Sam Leifer are now working on scripts for six more episodes, with the new run set to be filmed in the autumn. The production will again travel to Bulgaria to use a standing set.
All the main cast are set to return for the second series, with Rosenthal, Fry and Sampson once again joined by Doon Mackichan as scary boss Flavia; Karl Theobald playing the trio's dodgy landlord; Sophie Colquhoun as Cynthia, a love interest for Marcus; and Lydia Rose Bewley as Cynthia's no-nonsense slave Metella.
ITV is currently investing heavily in comedies, searching for a home-grown hit. Plebs was the network's second British sitcom in 7 years, following only the spoof-reality sitcom Lemon La Vida Loca, which debuted in August 2012.
Today's news indicates that ITV is keen to continue with its investment programme. News regarding the future of Vicious and The Job Lot, the two sitcoms broadcast on the network's flagship channel, is expected in the next few months.
Series 2 of Plebs is expected to be screened on ITV2 in early 2014.
Below is a scene from the first episode in which Marcus, Stylax and Grumio attempt to gain access to a nightclub:
Share this page