More details on the new Chris Addison sitcom
More details on the new Chris Addison sitcom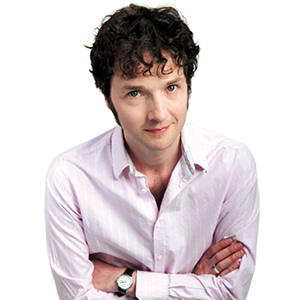 More details have been revealed today about Trying Again, the new Sky sitcom starring Chris Addison.
Written by Addison and The Thick Of It's Simon Blackwell, the comedy series observes a couple struggling with life after an affair.
It was announced this afternoon that starring alongside Addison will be Jo Joyner, who plays Tanya Branning in EastEnders. Joyner, who is set to leave the soap, has previously acted in comedy dramas including Candy Cabs and Swinging.
The cast list announced today also includes Downton Abbey's Charles Edwards and stand-up comic Alun Cochrane.
The eight episode comedy, which is being made for Sky Living, will focus on Meg (Jo Joyner) and Matt (Chris Addison), a couple who are going through a rough patch in their relationship. The creators describe the show as follows:
"Trying Again is a warm, funny sitcom about trying to mend a relationship after an affair. Set in The Lake District, Meg and Matt are meant to be together, they're pretty sure of that. And they really are trying to put her indiscretion with her boss Iain behind them. But it's not easy when you live in a small town where everyone knows everyone's business and you have bills to pay."
Charles Edwards, who played Michael Palin in Holy Flying Circus, has been cast as Matt's love rival, Iain, whilst stand-up comedian Alun Cochrane will play Sam, Matt's best friend.
Jo Joyner, talking about taking on the lead role of Meg, says: "I am thrilled to be part of such an exciting project with such a wonderful team of not just actors, but writers and creatives. As an actor it is very exciting to be part of a project like this right from the beginning and have a true creative input."

Chris Addison adds: "We've been dying to make this show for years so it's really exciting to be getting it off the ground with such a great cast."
The series has been script edited by Peep Show and Fresh Meat writer Jesse Armstrong and will be produced by Caroline Norris (Horrible Histories) and directed by Ian Fitzgibbon (Moone Boy).
Trying Again will be filmed over the summer, for broadcast on Sky Living towards the end of the year. It is one of a number of British comedy shows the channel is developing. Other productions for Sky Living include Give Out Girls, Doll & Em and another series of Mount Pleasant.
Last week, Chris Addison talked in-depth to Richard Herring on Richard Herring's Leicester Square Theatre Podcast.
Share this page