Keith Lemon to release debut music single
Keith Lemon to release debut music single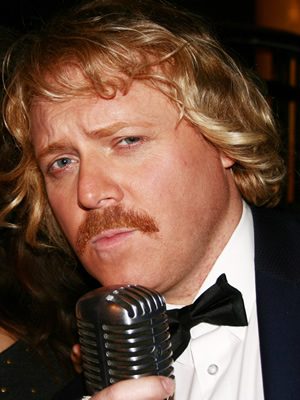 Leigh Francis, better known as his alter ego Keith Lemon, is set to release a music single in character as the Celebrity Juice presenter.
Titled I Wanna Go On You, the track will be available to download on iTunes from Monday. The release is timed to coincide with the launch of the second series of Lemon La Vida Loca, ITV2's spoof reality show based around the character.
The I Wanna Go On You music video starring Leigh Francis as Keith, alongside Gareth Gates and Keith's 'dad', Billy Ocean, will be free on iTunes to those who download one of the three song versions - the clean radio edit, the original ruder uncut version or the disco mix.
The first series of Lemon La Vida Loca drew to a close the evening before Keith Lemon: The Film opened in cinemas in August last year. The film featured a cameo appearance by Billy Ocean.
100% of the profits from I Wanna Go On You will be donated to charity via ITV's Text Santa appeal.
The new six-part series of Lemon La Vida Loca launches on Thursday 6th June. The plot of the new run of episodes is described as follows: "Having recently split with long-term girlfriend, Rosie, Keith is single and ready to mingle, and as part of his rehabilitation over a broken heart, he decides to ditch TV presenting in favour of a career in music."
Speaking about the music single, Keith Lemon says: "Music has always been me main passion. That and women. I still love doing telly but I'm hoping to smash the music world's back doors off. And it's all for a good cause, my payment is the privilege to express meself musically."
Here is the music video for I Wanna Go On You:
Below is the trailer for the second series of Lemon La Vida Loca. The song I Wanna Go On You will be available on iTunes from Monday 3rd June.
Share this page