Spy, the sitcom axed by Sky, wins international award
Spy, the sitcom axed by Sky, wins international award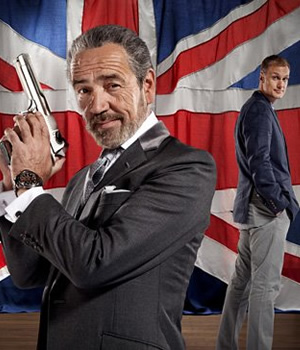 Spy, the Sky1 comedy starring Darren Boyd and Robert Lindsay, has won a prestigious international award.
The programme triumphed in the sitcom category at the 2013 Rose d'Or Awards, the European-based TV awards which aim to "define the gold standard of excellence and achievement in entertainment programming".
This year, the sitcom shortlist for the awards consisted exclusively of British programmes, with BBC Two comedies The Thick Of It and Twenty Twelve nominated alongside the espionage sitcom.
However, Spy's win will be an embarrassment to Sky, who refused to order a third series of the sitcom despite its popularity with audiences and strong international sales.
Spy has now been shown in 100 countries and an American re-make of the format is currently in development.
Executive producer Jimmy Mulville tweeted: "#Spy, the award-winning Sky comedy, just picked up a Golden Rose. It's sadly a posthumous award. Unless someone wants to revive us!" This message was then re-tweeted by Simeon Goulden, who created and wrote the show.
Guest hosting Have I Got News For You a fortnight ago, Robert Lindsay also made it clear he was un-happy the show had been axed. When the teams started talking on the topic of a real-life CIA mission that went wrong, he said: "It's the biggest spy scandal since Sky1 failed to recommission a certain award-winning comedy."
Mulville, the managing director of Hat Trick Productions, the company that made the programme, also posted on the micro-blogging website: "And #spy was in the Golden Rose 'Group of Death' with the brilliant 2012 and The Thick Of It. We await the next Simeon Goulden creation."
Speaking at the announcement of the nominees, director Annika Nyberg Frankenhaeuser said: "The quality and number of entries received in 2013 is exceptional and the judges have chosen top-quality nominees. The Rose d'Or are the awards that programme-makers covet the most because they symbolise the pinnacle of success for entertainment programming."
British comedies have a strong legacy of success at the Rose d'Or Awards going back decades. In 2012, Horrible Histories, Friday Night Dinner and Charlie Brooker's Black Mirror all won in their respective categories.
However, British programming lost out in the wider 'Comedy' category this year as Channel 4 sketch show Cardinal Burns and BBC Three's politically motivated prank show The Revolution Will Be Televised were beaten to the Golden Rose by What If?, a Belgian programme.
The winners were announced at the 2013 Media Summit in Brussels last night, the first time in 52 years that the ceremony has been held outside of Switzerland.
Below is a video providing a brief overview of the plot of Spy:
And in the below video some of the Spy cast and writer Simeon Goulden answer quick-fire questions:
Share this page