Suffragette sitcom Up The Women to return for Series 2
Suffragette sitcom Up The Women to return for Series 2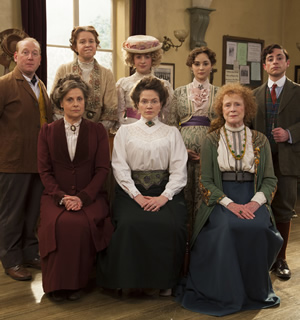 Story update, 10th June: the second series will be shown directly on BBC Two.
Brand new period sitcom Up The Women has already been given a second series, British Comedy Guide has learned.
Set around the suffrage movement in early 20th Century Britain, Up The Women launched earlier tonight on BBC Four.
Like many new comedies that launch on the high brow arts-orientated channel, the initial run of the comedy consists of three episodes. However, BCG understands that an additional full-length six part series has already been ordered by the BBC.
It should be stressed at this stage that the BBC has yet to officially confirm or announce this second series.
Co-produced by the BBC and Baby Cow Productions and created and written by Jessica Hynes, the 1910-set comedy follows a womens' crafting group in the picturesque Oxfordshire market town of Banbury. Having visited London and stumbled across the growing movement calling for women to have the right to vote, group member Margaret believes the Banbury Intricate Craft Circle should join the cause.
Alongside Hynes, the series stars Rebecca Front, Judy Parfitt, Vicki Pepperdine, Adrian Scarborough, Georgia Groome, Ryan Sampson and Emma Pierson. Sandi Toksvig will also guest star as suffrage movement leader Emmeline Pankhurst.
Up The Women was initially conceived as a film project by Hynes, as she explained in The Independent: "I was researching a sort of Ladykillers-style comedy film about the suffragette plot to assassinate Asquith. They looked so funny and I thought that would make a great comedy, but my research got more and more serious and I thought actually, the film isn't what it's supposed to be, which is comedy. And then I realised what I wanted to do was write a comedy based on strong comic characters and put it in a proscenium setting."
The show is notable as it is both BBC Four's first sitcom to be filmed in front of a studio audience, and was the last comedy series to be recorded at BBC Television Centre before it closed for renovation. Series 2 is likely to be recorded later this year, possibly at Elstree Studios.
BBC Four has previously worked as the 'development ground' for a number of successful British sitcoms. Series to have started on the niche channel include Lead Balloon, The Thick Of It and Twenty Twelve, with all three moving to BBC Two in later series.
Twenty Twelve, the award-winning satire based on the organisation of the Olympic games, also starred Hynes. The programme has officially finished, but writer John Morton is said to be re-working the programme's popular characters into a new scenario. Hynes has signalled in a number of newspaper interviews this month that she would reprise her role, PR 'guru' Siobhan Sharpe, if given the chance.
The first series of Up The Women was produced by Emma Strain and directed by Christine Gernon, both of whom are expected to return for Series 2.
---
Story update, 12th June: the BBC have now officially confirmed this news, with six new episodes to be made for BBC Two.
Jessica Hynes says: "I am very pleased that the Banbury Intricate Craft Circle Politely Request Women's Suffrage, BICCPRWS, will continue to convene on the British Broadcasting Corporation. Our members are thrilled and our passion for social change through militancy burns brighter than ever. We are composing an incendiary pamphlet and designing our very own BICCPRWS egg cosies to celebrate this momentous occasion. Up The Women!"
BBC Two's Janice Hadlow adds: "I'm delighted to welcome the Banbury Intricate Craft Circle to BBC Two. With brilliant writing from Jessica Hynes and a fabulous cast including Rebecca Front, Judy Parfitt and Adrian Scarborough, Up The Women is a wonderful addition to comedy on the channel."
BBC Comedy's Mark Freeland comments: "It's fantastic that we'll be seeing more of The Banbury Intricate Craft Circle - not something I've ever said before. I am most grateful to BBC Four and now BBC Two for their support, and of course, to Jessica Hynes for creating such a unique comedy and to the cast for upping the women so beautifully."
Lindsay Hughes, from production company Baby Cow, concludes: "We are thrilled to be making another series of Up The Women. Jessica's creation is a brilliant piece of comedy and we are so lucky to be working alongside the BBC with an incredible cast and crew bringing it all to life."
---
Here is a trailer for the first series of Up The Women:
Share this page