Joan Collins joins the cast of Benidorm
Joan Collins joins the cast of Benidorm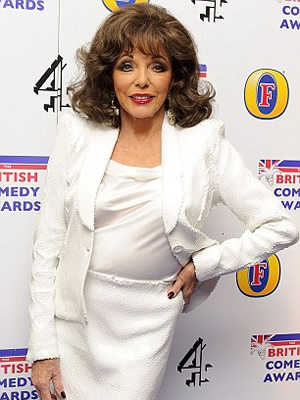 Joan Collins (pictured) has revealed she will be joining the cast of ITV sitcom Benidorm for its sixth series. She will play a hotel high-roller called Crystal in the Spainish holiday-based comedy.
The actress is perhaps best known for playing Alexis Carrington Colby in the hit 1980s drama Dynasty alongside Linda Evans, who played rival Krystle Carrington.
Writing on Twitter, Collins told her fans: "Looking forward to going to Spain to be in #Benidorm, And I'm playing Crystal. Yes I am!! But not the Dynasty one."
An ITV source told The Mirror: "Show bosses are over the moon to have Joan on board. Derren Litten, the show's creator, has written a brilliant character in Crystal. But dodgy tans, tasteless cocktails and all-night parties might be an eye-opener for her."
Litten says: "I'm so excited about Series 6 of Benidorm, probably more excited than all previous series. Apart from Dynasty Series 5 of course, what could possibly top the Moldavian Massacre?"
Other guest stars appearing alongside Collins in the new series will include Ken Morley, who will be reunited on screen with Sherrie Hewson, who plays hotel manager Joyce Temple Savage in this comedy. The duo previously starred together as husband and wife in soap opera Coronation Street.
Benidorm's creator and writer, Derren Litten had quit the sitcom after its fourth series in 2011, only to announce that he would return to write part of Series 5 after hearing that Collins was a fan of the show and would be interested in a guest starring role.
The main details about the new seven-part sixth series of Benidorm, which is currently filming on location in Spain, were announced in April.
The Dykes, a new family, are set to be introduced in the forthcoming series. Heading up the clan are Clive (Perry Benson) and Tonya (Hannah Waddingham) - a lively Watford couple, with Clive firmly under the thumb of his no-nonsense wife. They bring their two children with them, Bianca (Bel Powley) and Tiger (Danny Walters) - both are young, single and looking for fun.
Additionally, Hollyoaks pin-up Philip Olivier joins the show as a new character, whilst Matthew Kelly will return as hotel manager Joyce's old flame, Cyril Babcock.
Steve Pemberton, Siobhan Finneran, Kenny Ireland, Janine Duvitski, Jake Canuso, Tim Healey, Adam Gillen and Tony Maudsley are amongst the regular cast members returning for the next run, with Nicholas Burns, after having taken a three series break, returning as Martin Weedon.
Executive Producer Ben Cavey says: "We are so pleased to be back in Spain filming series six of Benidorm. Derren Litten has written seven fantastic scripts, which might be seven of the best episodes yet. Things are certainly heating up by the pool in this series, with some great new characters as well as the return of many of our well-loved regulars."
Series 6 of Benidorm will be on ITV later in the year.
Share this page