Rik Mayall confirmed as Dad in Greg Davies sitcom
Rik Mayall confirmed as Dad in Greg Davies sitcom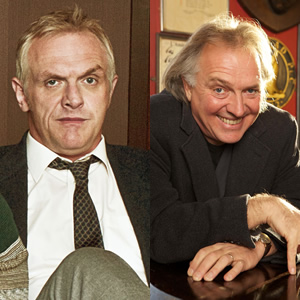 Comedy star Rik Mayall has been confirmed to join the cast of a new Channel 4 sitcom.
Man Down, from Avalon Television, has been created and written by comedian Greg Davies (pictured, left), who will star in the show as Dan, a teacher and "childish idiot trapped in an adult's life".
Davies, best known to many as Head of Sixth Form, Mr Gilbert in The Inbetweeners, is regularly described - including by himself - as resembling a "fat, taller Rik Mayall".
Mayall (pictured, right) will play Davies's character's father in the series, despite being only 10 years older than the comedian in real life. Referring to the role in March, Mayall joked: "It means I impregnated someone when I was 12, and that's pretty rock and roll."
The news of Mayall's involvement in Man Down was first hinted at in November, after he took part in a pilot episode for the sitcom.
Channel 4 summarised Dan, Davies's character, as follows: "Crushing character flaws, an unwanted teaching job, uniquely dysfunctional friends and a wilfully insane Dad conspire to keep this man down."
Other current sitcoms set around schools include Jack Whitehall's Bad Education, which will return for a second series later this year; Big School, a new BBC One sitcom starring David Walliams; and Some Girls, which will also return to BBC Three for a second series later in 2013.
Man Down will not be Davies's first self-penned sitcom. Alongside Chris Corcoran, he has written and starred in three series of Those That Can't, a BBC Radio Wales sitcom set in a comprehensive secondary school deep in the Welsh valleys.
Prior to entering comedy Greg Davies was a drama teacher, a subject he subsequently joked about in his first stand-up show, Firing Cheeseballs At A Dog.
Talking last year about Man Down's commission, Davies said: "It is a dream come true that Channel 4 have commissioned my sitcom, I promise that all of the characters will be humiliated at every turn, regularly physically attacked and, at some point, fully naked in every episode."
Man Down's six episodes will begin filming shortly and are expected to broadcast later this year. Matt Lipsey (Vexed, Psychoville, This Is Jinsy) will direct the sitcom. Other casting details have not yet been revealed.
Rik Mayall was most recently seen playing the role of wheelchair-bound D.I. Gideon Pryke in the new Easter special episode of Jonathan Creek, The Clue Of The Savant's Thumb. Last year it was reported that he was working on a spin-off from early 1990s sitcom Bottom with long-term comedy partner Adrian Edmondson to be called Hooligan's Island, but the project has since been scrapped.
Davies is filming a second series of BBC Three's Cuckoo.
Here is a clip of Greg Davies playing Mr Gilbert in The Inbetweeners Movie:
Share this page