American remake ordered of Channel 4's Sirens
American remake ordered of Channel 4's Sirens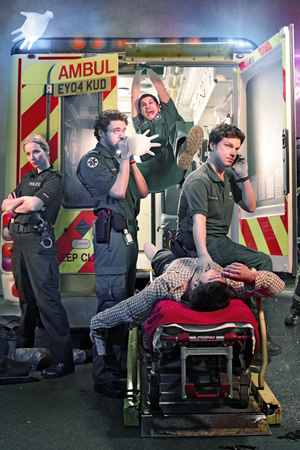 A full series remake of Sirens has been ordered by American television station USA Network.
The Leeds-based comedy drama was axed by Channel 4 after just one series in 2011, but Chris McCumber, co-president of American cable channel USA Network, has ordered an adaptation of the series as his channel's first ever original comedy commission.
Based on the book Blood, Sweat and Tea, Brian Kellett's (aka Tom Reynolds) real-life tales of working as an emergency paramedic, the six-part series Sirens was broadcast between June and August 2011, reaching around 1 million viewers.
At the time the series was cancelled, NBC was known to be working on a pilot for the US market. USA Network and NBC are owned by the same parent company, Comcast.
America's Sirens will be a half-hour sitcom set in Chicago, featuring Michael Mosley (The Proposal), Kevin Daniels (Modern Family), Australian actress Jessica McNamee and Kevin Bigley, who also starred in the US pilot for remake of Friday Night Dinner.
The adaptation has been created and written by Bob Fisher (Wedding Crashers) and stand up comedian Denis Leary, who will act as an executive producer.
Produced by Daybreak Pictures in the UK, America's Sirens will come from FOX TV Studios.
Here is a trailer for the original Channel 4 series:
Share this page