Horrible Histories team to make film about Shakespeare
Horrible Histories team to make film about Shakespeare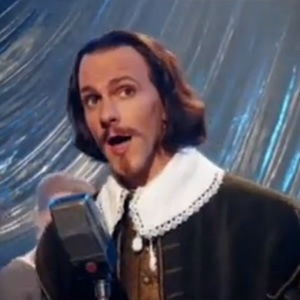 BBC Films has today announced that the cast of Horrible Histories are to star in a Bill, a new comedy film about playwright William Shakespeare.
Bill will tell the story of how 'Bill became William' in the trademark style of the hit CBBC sketch show.
The plot focuses on how hopeless lute player Bill Shakespeare leaves his family and home to follow his dream. The description continues: "It's a tale of murderous kings, spies, lost loves, and a plot to blow up Queen Elizabeth. Can one man prove the quill is mightier than the sword?"
The film will star the six lead Horrible Histories cast members - namely Mathew Baynton, Simon Farnaby, Martha Howe-Douglas, Jim Howick, Laurence Rickard and Ben Willbond. BBC Films say: "All will play multiple roles in Bill, in the style of the Python films."
The script for the movie has been penned by Rickard and Willbond, who say: "Bill is a comedy adventure for all the family. We're playing with history, just as Shakespeare did, for the entertainment of the audience. And we like to think he'd be OK with it. Apart from the bit where he's dressed as a tomato."
BBC Films' Christine Langan adds: "We're thrilled that BBC Films is making the first film starring this team of incredibly talented and popular British comedy writers and performers. Horrible Histories has been a terrific success and is hugely popular with both kids and their parents. Bill will be a film for all the family to enjoy with original British talent telling a very funny story about Shakespeare."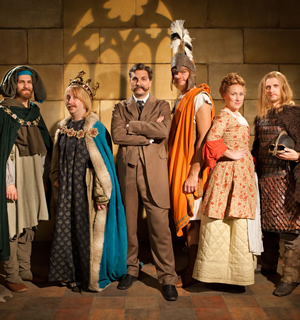 Horrible Histories launched on CBBC in 2009 and has since gone on to win a number of prestigious awards, including BAFTAs and British Comedy Awards.
A new thirteen part run, which the BBC has said will be the show's last series, will begin airing on Bank Holiday Monday, 27th May. Sketches in Series 5 will include Rosa Parks singing about her struggle for equality, Stone Age Top Gear, Johannes Gutenberg going head-to-head with some monks on The Historical Apprentice and diarist Samuel Pepys annoying the smartest men in Britain.
As announced in March, the key cast members of Horrible Histories are also currently working on Yonderland, an 8-part fantasy comedy series for Sky1 about a mum who unexpectedly finds herself in an extraordinary world inhabited by a collection of eccentric characters.
Yonderland is expected to broadcast on Sky1 in the Autumn; whilst Bill is shooting later this year in the UK, for release in the winter.
The Horrible Histories TV series has already portrayed Shakespeare a number of times, with Mathew Baynton as the Bard. Below are some sketches:
Shakespeare sings:
Shakespeare in a pub altercation:
Shakespeare appears on Mastermind (2nd sketch):
Share this page