Lee Mack to re-make Everybody Loves Raymond
Lee Mack to re-make Everybody Loves Raymond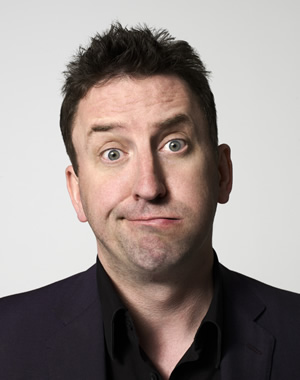 The BBC are working on a remake of hit US sitcom Everybody Loves Raymond, with Lee Mack (pictured) overseeing the writing.
The British version is being piloted under the title of The Smiths and will be recorded in front of a studio audience at the end of the month.
The pilot for BBC One will star Lee Mack and Catherine Tate as a married couple, with the premise following that of the hit American show. Mack will play a successful sports journalist who lives across the street from his overbearing parents and older brother.
Created by Phil Rosenthal, Everybody Loves Raymond is one of America's most successful sitcoms. Starring Ray Romano and Patricia Heaton, the CBS comedy ran for over 200 episodes between 1996 and 2005, winning multiple awards in the process, including 15 Emmys.
The British version, which will see the action moved from New York state to Cheshire, is being produced by Silver River. The production company is mainly known for factual entertainment shows like Inside Gatwick but has previously produced some comedy programmes including BBC Three sitcom Pulling.
The Smiths will be a reunion for Mack and Tate. The duo previously appeared together in a live sketch show at the Edinburgh Festival Fringe in 1999, before both going on to become big comedy stars individually. The Catherine Tate Show made its eponymous creator a household name, whilst Mack became one of the most well-known stand-up comedians in the country.
Tate also starred alongside Mack in the 2005 non-broadcast pilot episode of the latter's sitcom, Not Going Out. However, Megan Dodds took over the role when the programme was commissioned.
A sixth series of Not Going Out is currently airing on BBC One on Friday nights, with another series and a Christmas special expected next year. Meanwhile, Catherine Tate has joined the cast for Big School, a new sitcom for the BBC written by David Walliams.
The pilot episode of The Smiths will be recorded in front of a live audience on Saturday 25th May at Elstree Studios. Tickets are not yet available.
The pilot is unlikely to be broadcast on television, with BBC executives deciding whether to order a series after viewing the episode.
Below is a clip from Everyone Loves Raymond:
And here is a clip from this Friday's Not Going Out, in which Lee Mack is on a date at a posh restaurant:
This story was edited on 9th May to correct the recording date and indicate the show is being recorded at Elstree Studios.
Share this page