Filming set to start on The IT Crowd final special
Filming set to start on The IT Crowd final special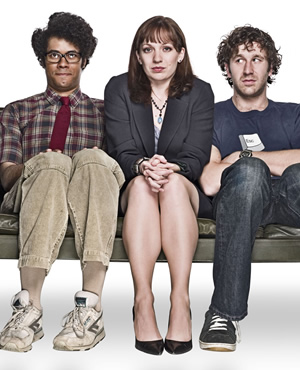 Graham Linehan, writer of The IT Crowd, has revealed the sitcom's final special episode will be filmed shortly.
Speaking at a Q&A session focussing on the sitcom at the German conference re:publica, Bleeding Cool News reports Linehan confirmed the episode will be filmed in three weeks' time.
No further details are currently known about the 40 minute special, but it is believed Chris O'Dowd, Richard Ayoade, Katherine Parkinson and Matt Berry will all be reprising their Reynholm Industries characters.
It was announced in October 2011 that the sitcom based around two socially awkward computer experts and their boss would not return for a fifth series, with the writer no longer wishing to pursue the project.
At the time, Linehan wrote on the website Reddit: "Chief reason was the fact that I just wasn't looking forward to it the way I used to. I felt that the last series was a nice strong point to go out on, and anything further might just be running on the spot. You don't do your best work when you're running on the spot."
He also added: "It feels like a natural time to wind things down. Apart from anything else, we're probably reaching that stage where it begins to feel odd that Roy, Jen and Moss are still stuck down in that basement. I don't want to start giving everybody babies to make it feel like they're moving on with their lives. My kind of comedy has always been setpiece-driven... and maybe that kind of thing has a naturally short life. I did three series of Father Ted, one of Black Books, one of Big Train, so I feel a personal sense of achievement that IT Crowd made it to Series 4, especially as it gave me two of my favourite episodes, Jen The Fredo & Final Countdown."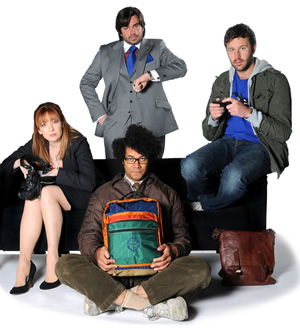 The fact the show will end with a final one-off special has been known and planned for some time, however the actors and writer have all been busy with other projects.
Katherine Parkinson revealed in March: "It was going to happen when my baby was five weeks old, but I had enough foresight to realise that I probably wouldn't be ready. I wasn't."
Matt Berry is also now working on a full series of new Channel 4 comedy Toast Of London following the success of a pilot episode last year, and Richard Ayoade has recently been undertaking various voice acting work. Strange Hill High, a new animated kids comedy in which he voices one of the lead three characters, launches this afternoon on CBBC and a second series is already in production.
Meanwhile, Chris O'Dowd's movie career continues to flourish, with forthcoming productions including Cuban Fury and Thor: The Dark World. He is also preparing to write and film a third series of Sky1 sitcom Moone Boy, and has finished production on new BBC Two comedy Family Tree.
Graham Linehan, meanwhile, has been busy co-writing and directing Count Arthur Strong, a new studio-based TV sitcom based on the hit Radio 4 series. It is due to launch on BBC Two next month.
There is no further detail available on when the final IT Crowd special will be broadcast, but there is some speculation that Channel 4 will opt to show it as part of their 2013 Christmas schedule.
Story update, 4pm. Linehan has tweeted "To those asking, yes it's true", and Channel 4 have confirmed they will show it 'later in the year'.
Channel 4's Nerys Evans says: "Only the power of Graham's magical writing could bring back together four of the UK's brightest comedy stars, for an un-missable one off episode special that will screen later in the year on C4. Whether it is the final... Well, we like to say never-say-never."
Below is a classic clip in which Moss appears on Countdown:
Share this page