Channel 4 prepares Friday Night Dinner Series 3
Channel 4 prepares Friday Night Dinner Series 3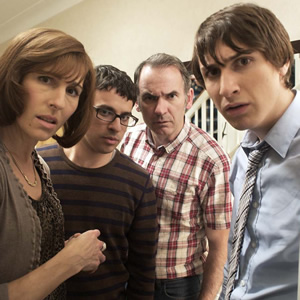 Channel 4 is poised to order a third series of sitcom Friday Night Dinner, British Comedy Guide can confirm.
Penned by Robert Popper and produced by his own company, Popper Pictures, in association with Big Talk Productions, the series stars The Inbetweeners' Simon Bird and Tom Rosenthal of ITV2's Plebs, as grown-up sons Adam and Jonny, who return to their Jewish family home each Friday evening for a meal with their parents.
Their father, Jim, is played by Paul Ritter, whilst Tamsin Greig is their mother, Jackie. Mark Heap plays a regular supporting role as the Goodman family's freakishly oddball neighbour, Jim.
The first series of the sitcom was broadcast by Channel 4 on Fridays from February to April 2011, reaching an average audience of 1.35 million viewers, according to overnight ratings.
Friday Night Dinner's second series made it to screen in October and November 2012 but none of the six episodes managed to pass the 1m viewers mark, having been moved to a Sunday night timeslot. A special episode followed on Christmas Eve, which attracted an audience of 1.39m.
The British Comedy Guide now understands that it is "very likely" a third series will be commissioned in coming weeks. Contracts between Channel 4 and Big Talk and Popper Pictures have yet to be completed, but production on the series is currently being planned for September.
At the FHM 100 Sexiest Women in the World 2013 Awards in Central London earlier this week, Rosenthal told a Bang Showbiz reporter: "We are doing another Friday Night Dinner, which is going to start filming in September after the Edinburgh Festival. It's not been completely confirmed yet but it's pretty much going to happen so I'm really exited about that. It's just such a great show, and it's great fun to film."
This will be the second sitcom commission jointly secured by Big Talk and Popper Pictures so far this year. Give Out Girls, a Sky Living series, was announced earlier this week.
---
Story update, 9th May 2013 - commission confirmed.
Channel 4 have now confirmed they've ordered six more episodes, to be filmed this summer for transmission in early 2014.
In the new series, Adam gains a new female admirer - an 11-year old girl, Jonny gets the world's worst tattoo, Dad gives the boys a graphic lecture on sex education, Mum practices being a counsellor on her horrified family, Grandma goes back out with the terrifying Mr Morris, Jim accidentally swallows his dog's sleeping pills, and... there's a wedding.
Robert Popper says: "I'm so excited to be making a new series of Friday Night Dinner with such a fantastic cast once again. I really could not be happier. Well I could, if say, I'd taught crows how to speak and they, in turn, taught me how to fly."
Channel 4's Nerys Evans adds: "We're thrilled we're going to be spending more Friday Nights with the Goodmans, and not forgetting Jim and Wilson too. Roberts's created such a brilliantly warm and funny world, and the cast are just sublime, we can't wait to join them for more Friday Night Dinners next year."
---
In 2011 it was announced that America's NBC was adapting Friday Night Dinner for US audiences. A pilot episode was made but the show was not commissioned by the network. Below is a clip from this US pilot, with Allison Janney and Tony Shalhoub as the parents:
Share this page