New ITV comedies attract nearly 6 million viewers
New ITV comedies attract nearly 6 million viewers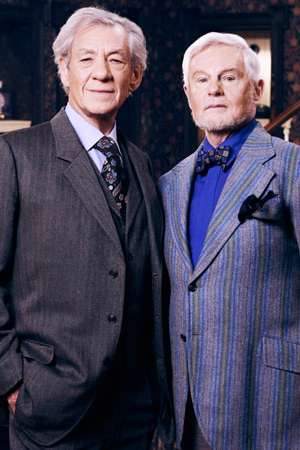 New ITV sitcoms Vicious and The Job Lot made a strong start on the network's flagship station last night, attracting nearly 6 million viewers.
Broadcasting in a double-bill between 9 and 10pm, studio sitcom Vicious was seen by 5.68 million viewers, a 23.6% share of the total television audience during its timeslot. Following it at 9:30pm, 4.74m people watched The Job Lot (20.1%), according to initial audience data.
Viewers of repeat broadcasts and those watching via online catch-up service ITV Player are likely to add significantly to each programme's consolidated overall reach throughout the week.
The sitcoms launched in a slot vacated by highly praised crime drama Broadchurch last week. Having run for eight weeks, its final installment was seen by 8.6 million viewers in the same overnight ratings, 33.4% of the television audience during the hour.
Vicious is a bawdy, panto-esque, theatrical studio sitcom starring acting heavyweights Sir Ian McKellen and Sir Derek Jacobi as an ageing gay couple living in Covent Garden.
Also starring Rising Damp actress Frances De La Tour and Iwan Rheon (Misfits, Grandma's House), it was created by renowned playwright Mark Ravenhill and written by American Gary Janetti (Will & Grace) after Ravenhill's commitments to the Royal Shakespeare Company prohibited him from pursuing the project in ITV's time-frame.
The Job Lot, from Big Talk Productions (Friday Night Dinner, Rev), stars Sarah Hadland (Miranda) as Trish, the manager of a Midlands job centre. Russell Tovey (Him & Her) plays downtrodden Karl, the only employee she can remotely rely on, with Jo Enright (Lab Rats) as the obstinate Angela.
A more downplayed affair, The Job Lot is a single-camera location-shot comedy series that has been compared to The Office by critics, not always favourably. Vicious has received a similar mix of press reaction.
Vicious hit a viewer peak of 6.56 million viewers, whilst the most people who tuned into The Job Lot in any one 5-minute block was 5.01m. The comedies made ITV's flagship station the most popular television channel of the day, reaching 15.7% of the total television audience against BBC One's 13%.
Each series is due to run for six episodes, with a Christmas special of Vicious having already been filmed and a second series planned - but not yet confirmed - for production later this year.
The two series mark a triumphant return to comedy for ITV, which recently completed transmission of Ancient Rome-set Plebs on ITV2 but has otherwise not broadcast a new scripted sitcom since Teenage Kicks (2008) and Moving Wallpaper (2008 - 2009). The channel was once a powerhouse of audience-pleasing sitcoms, but shied away from the comedy sphere in recent years.
ITV now hopes to reinvigorate its audience base and build upon successes in the drama genre. Other forthcoming sitcoms include animation The Wild World Of Warren and Cabbage And Pat.
In the same 9-10pm timeslot, BBC Two broadcast a documentary reflecting on the life and work of Irish sit-down stand-up Dave Allen, God's Own Comedian, which attracted an audience of 2.73 million (11.5% share, a 66% increase on the slot average), whilst 3.4m people tuned into BBC One for Crimewatch.
The following video is a clip from the first episode of Vicious:
Here is a preview trailer from The Job Lot:
Figures quoted in this story include both HD and standard definition broadcasts and, where applicable, +1 timeshift channel viewers between 10 and 11pm.
Share this page