Final series of Him & Her commissioned
Final series of Him & Her commissioned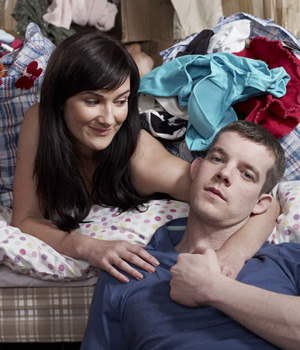 BBC Three has today announced a fourth and final series of relationship sitcom, Him & Her.
Starring Russell Tovey and Sarah Solemani (pictured), the series will be entitled Him & Her: The Wedding.
Tovey and Solemani play young lovers Steve and Becky, who are constantly interrupted in their desire for peaceful slovenliness by a stream of uninvited neighbours and relatives.
Chief amongst these guests are Becky's sister, Laura (Kerry Howard), and her fiancé, Paul (Ricky Champ). The new series will take place entirely during Laura's wedding.
Writer Stefan Golaszewski says: "After three series in Steve and Becky's bedsit, we're moving them into the outside world as we reach the final chapter of their story. It's been a great few years and I feel incredibly lucky to have worked with such a talented team."
Kenton Allen, CEO of production company Big Talk, added: "Stefan's brilliant dissection of young love and all the problems that come with it have given us four series of perfectly realised writing, acting and technical achievement. We're so proud of Him & Her and think it will stand the ultimate test of time and I can't wait for audiences to join Steve and Becky to witness the wedding of Laura, one of the most appalling characters on television for a very long time."
Series 3 saw Steve and Becky themselves become engaged, before leaving viewers on a cliffhanger as to whether Paul had begun a homosexual affair and would be leaving his monstrous female fiancée.
Him & Her: The Wedding will be filmed this summer and broadcast on BBC Three late this year.
The following Series 3 clip features Laura teaching Paul some manners:
Share this page