BBC One to adapt David Walliams book Gangsta Granny
BBC One to adapt David Walliams book Gangsta Granny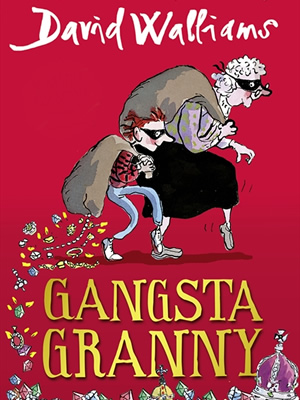 BBC One has today announced it has commissioned an adaptation of Gangsta Granny, the popular children's book written by comedy star David Walliams.
Gangsta Granny (pictured) is David Walliams' fourth children's book. First published in 2011, it has since sold over 430,000 copies and is still, at the time of writing, in the top 20 bestsellers list on Amazon.
The story follows schoolboy Ben, who is bored beyond belief after he is made to stay at his grandma's house; all she wants to do is stay in and play Scrabble and eat cabbage soup. What Ben doesn't know about his grandma is that she was once an international jewel thief, and for her entire life, she has been plotting to steal the Crown Jewels.
The one-off, one-hour comedy drama will be overseen by the same team that adapted Mr Stink, another of Walliams's books, for television last Christmas. That special is now in the running for a BAFTA.
Gangsta Granny, which will be shown this Christmas, will be produced in-house at the BBC by Jo Sargent, and working alongside Walliams on the script will be experienced writers Kevin Cecil and Andy Riley.
David Walliams says: "Gangsta Granny has proved to be the most popular of all my books. It is an adventure story about two unlikely thieves, Granny and her grandson, Ben. It should make for exciting family viewing at Christmas."
BBC commissioner Shane Allen adds: "The story delivers on David's penchant for being outrageously funny, yet poignant and tender as well. This will be a wonderful family viewing treat for this Christmas and we're thrilled about seeing it make the journey from page to screen."
Filming will take place later in the year. The cast for the programme will be announced at a later date.
David Walliams is also currently working on another BBC comedy. He has written and takes the lead role in Big School, a sitcom set in the dysfunctional staff room of an urban secondary school. The six-part series is currently being filmed. Walliams can also be seen as a judge on ITV series Britain's Got Talent on Saturday evenings.
Share this page