Bluestone 42 gets a second series
Bluestone 42 gets a second series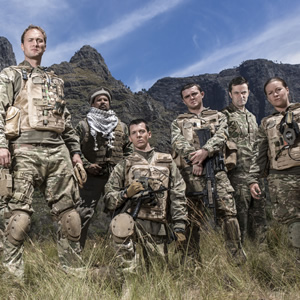 BBC Three has announced that it has ordered a second series of Bluestone 42.
The comedy drama, which follows the adventures of an army bomb disposal unit operating in Afghanistan, has been met with a generally favourable reception from both audiences and critics.
Consolidated ratings - statistics which include repeats and iPlayer streaming - indicate that over 2 million viewers have been watching each episode of the first series.
The comedy, which is written by Richard Hurst and James Cary, focusses on the camaraderie, bonds and banter of the unit as they undertake their high-risk jobs.
Despite being carefully researched and informed by serving and former members of the armed forces and military experts, Bluestone 42 had to deal with negative headlines in advance of its premiere. Some papers and MP Patrick Mercer questioned whether it was tasteful setting a comedy around an active conflict, however since the series started the complaints have faded away.
The Stage commented: "The script and cast merit a mention in dispatches for successfully and consistently mining laughs from such an inhospitable comic landscape" and the Radio Times praised the programme for being adept at "handling the awkward balance of earthy humour and tense, life-or-death situations".
Produced in-house by the BBC, the second series of the show will consist of six episodes and once again be filmed on location in South Africa, which doubles for Afghanistan.
The entire ensemble cast are expected to return for the new run. Oliver Chris will reprise his role as charming Captain Nick Medhurst, with Hustle star Kelly Adams as the unit's Padre and the object of Nick's desire. The cast list also features Tony Gardner as the battle-weary base commander, Gary Carr as the unit's over-keen second in command, Katie Lyons as a tough corporal who just wants to be one of the lads, Stephen Wight as the old-before-his-time solider, Keeno Lee Hector as the group's local Afghan interpreter, and Jamie Quinn and Scott Hoatson as the juvenile privates who 'aren't the sharpest bayonets in the drawer'.
Speaking about the re-commission, BBC Three controller Zai Bennett says: "I'm incredibly proud of this bold, brave and hugely funny comedy drama series which has been enjoying big audiences on BBC Three. The cast, crew and writers have played an absolute blinder in this important series which completes and complements BBC Three's already extensive coverage of the war in Afghanistan."
BBC Comedy boss Mark Freeland adds: "In-House Comedy is at its best when we try extraordinary and slightly scary things. I believe Bluestone 42 is both. We tried to excite audiences, as well as respect the subject matter and those in conflict. The team cannot wait to pick up this challenge again."
At the time of writing, there is still one episode from the first series of Bluestone 42 to air. The series finale will be broadcast tonight (Tuesday 23rd April) at 10pm. It focusses around Captain Medhurst having to face defusing a booby-trapped car bomb, and Simon Lansley planning his stag do. Below is a preview clip:
Share this page