Russell Howard is writing a film
Russell Howard is writing a film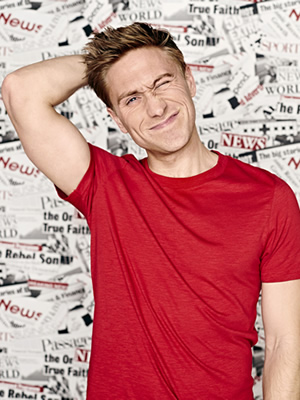 Russell Howard has revealed he is in the early stages of writing a film.
When asked in an interview what new projects he has coming up, the stand-up comedian said "I'm writing a film with my friend which hopefully will become something, but it's pretty early at the moment."
Howard, who told TV Choice the project was "pretty exciting", hasn't revealed too much about the idea behind the movie, but he did tell the magazine "it's about a bloke who falls in love with his family again".
However, the comedian won't take the lead role in the project if it does make it to the screen. He said: "I'm not a very good actor so it's something I'm writing and hopefully it will become something, then I'll have a tiny part in it. Have proper actors do it, rather than have me ruin it."
The comic is currently promoting Russell Howard's Good News (pictured), which returns to BBC Three for a new series on Thursday. The programme, which sees the comedian commenting on news clips from around the world, is BBC Three's most successful entertainment series and regularly tops the iPlayer charts when it is broadcasting. This will be the show's 8th series.
Tomorrow (Tuesday 23rd April), Howard is expected to announce a new stand-up tour. Wonderbox will involve dates in cities including Aberdeen, Belfast, Birmingham, Bournemouth, Brighton, Cardiff, Dublin, Glasgow, Liverpool, London, Manchester, Newcastle, Nottingham and Sheffield.
Below is a video in which Russell Howard gives a hint as to what Russell Howard Wonderbox will be about:
Share this page