ITV announces the details of Series 6 of Benidorm
ITV announces the details of Series 6 of Benidorm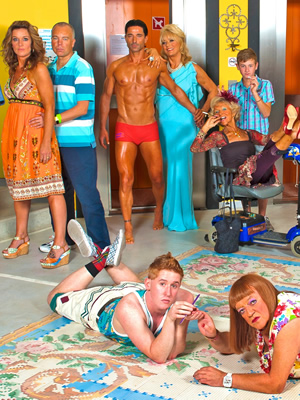 ITV has today confirmed details about the forthcoming sixth series of its hit sitcom Benidorm.
Seven new episodes are currently been filmed on location in Spain for broadcast on ITV later in the year.
Returning to enjoy the 'four star hotel treatment' in the new series are Mick Garvey (Steve Pemberton), Janice Garvey (Siobhan Finneran) and Madge Harvey (Sheila Reid).
Producers add: "Viewers will be surprised to see how grown-up Michael Garvey (Oliver Stokes) has become - he's now an adventurous teenager who's set to cause his parents many troubled afternoons by the pool."
The Dykes, a new family, are also set to be introduced in this series. Heading up the group are Clive (Perry Benson) and Tonya (Hannah Waddingham) - a lively Watford couple with Clive firmly under the thumb of his no-nonsense wife. They bring their two children with them, Bianca (Bel Powley) and Tiger (Danny Walters) - both are young, single and looking for fun.
Characters returning from previous series include popular swingers Donald Stewart (Kenny Ireland) and Jacqueline Stewart (Janine Duvitski), who fully intend to claim the free holiday that new manager Joyce Temple Savage (Sherrie Hewson) promised them at the end of the last series. Plus, hunky barman Mateo (Jake Canuso) still holds the fort behind the pool bar with the help of friendly transsexual Les/Lesley (Tim Healey).

The new series also sees Liam (Adam Gillen) join Kenneth DuBeke (Tony Maudsley) at his hair salon 'Blow & Go' - the very discreet and selective hair and beauty emporium within the Solana resort.
Benidorm looks to include notable guest stars in each series, and Series 6 is set to see Ken Morley, best known for playing Reg Holdsworth in Coronation Street, making a guest appearance. Additionally Hollyoaks pin-up Philip Olivier will play a new character, and Matthew Kelly will return as Joyce's old flame, Cyril Babcock.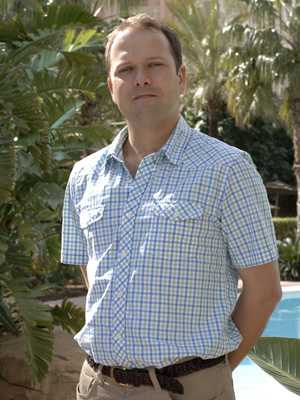 ITV has also revealed that Series 6 will see the return of Martin Weedon (Nicholas Burns, pictured), who was last seen in the sitcom in Series 3. Martin arrives on a loud and lairy stag do and, now very single, finds himself having a drunken 'encounter' with one of the well-known female holidaymakers.
Benidorm creator Derren Litten, who after sharing writing duties with Pemberton and Neil Fitzmaurice during Series 5, has returned to pen all 7 episodes, says: "I'm so excited about Series 6 of Benidorm, probably more excited than all previous series. Apart from Dynasty Series 5 of course, what could possibly top the Moldavian Massacre?"
ITV Comedy Commissioner Myfanwy Moore comments: "We are all thrilled at ITV to be sharing the sun beds again with our most popular and enduring comedy characters. This series promises to be the sunniest and strongest ever!"
Executive Producer Ben Cavey adds: "We are so pleased to be back in Spain filming series six of Benidorm. Derren Litten has written seven fantastic scripts, which might be seven of the best episodes yet. Things are certainly heating up by the pool in this series, with some great new characters as well as the return of many of our well-loved regulars."
Series 6 of Benidorm will be on ITV later in the year. The network is currently commissioning more new sitcoms in an attempt to find another hit to join the established series, which is the network's only successful scripted comedy format at present. Vicious and The Job Lot are set to begin shortly.
Share this page