Sky orders 14-part entertainment series hosted by Lee Mack
Sky orders 14-part entertainment series hosted by Lee Mack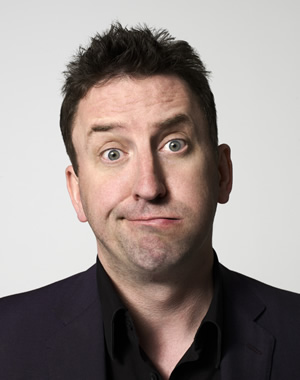 Sky has today announced the commission of Duck Quacks Don't Echo, a new entertainment series hosted by Lee Mack (pictured).
The 14 episode series has been ordered by Sky's Head of Entertainment, Philip Edgar-Jones, following a successful pilot recording in December.
Produced by Magnum Media, the hour long episodes will be based around amazing facts and trivia. Each episode will see three celebrity panellists competing to offer up the best piece of information, before putting it to the test "by any means necessary".
Sky says: "Whether it involves gluing themselves to a ceiling or participants receiving electric shocks, elaborate and hilarious methods will be employed to establish a winner."
Lee Mack says: "I'm really, really excited at the prospect of finally putting to the test such important, profound and meaningful debates as 'do cows that have names really provide more milk?'."
Philip Edgar-Jones adds: "Lee Mack is a very funny man and we loved the pilot for this so much - with its smart blend of comedy and mad facts - that we had to buy the series. I think it's going to be a real treat for Sky customers."
The news follows the commission of a seventh series of Mack's hit BBC One sitcom, Not Going Out, which launched its sixth series just last week. Mack will also return to screens as a regular team captain in panel game Would I Lie To You? later this year.
The commission also follows the success of Alexander Armstrong's Big Ask on Dave, which has just completed its second series run. The programme comprises a chat and quiz crossover format in which three comedians are asked to set each other questions on given topics, aiming to better the others' knowledge of obscure facts and trivia.
Duck Quacks Don't Echo will start filming shortly for broadcast on Sky1 later in the year.
Share this page