Alan Carr signs £4 million deal to stay with Channel 4 till 2015
Alan Carr signs £4 million deal to stay with Channel 4 till 2015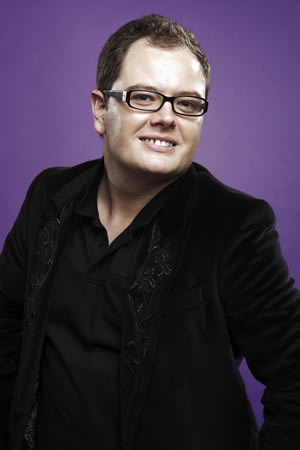 Alan Carr has renewed his Channel 4 contract in a deal said to valued at, according to The Mirror, around £4 million.
Channel 4 has today confirmed that the comedian has agreed a new two year exclusive deal. He will continue to present his popular interview show - Alan Carr: Chatty Man - until at least 2015, and the arrangement will see the stand-up create his first sitcom pilot too.
Carr is represented by Off The Kerb, the company run by powerful agent Addison Cresswell, who negotiated the infamous £18m deal between the BBC and Jonathan Ross in 2006. Off The Kerb also represents names like Jack Dee, Jo Brand and Michael McIntyre.
According to The Mirror, the deal - likely to include the production costs of a further two years of Chatty Man, not merely Carr's personal wages - was reached after ITV had attempted to lure the comic away from their rival broadcaster.
Last Friday, Chatty Man posted an overnight ratings figure of 1.39m whilst Saturday's The Jonathan Ross Show on prime-time ITV1 attracted 2.64m viewers.
ITV has extended the length of this series of The Jonathan Ross Show and ordered another series, so are presumably happy with the programme's performance, but the paper points to the fact that ratings for the ITV show are sliding.
It was reported last month that - in the face of competition from Chatty Man and The Graham Norton Show - there are concerns about the lack of high profile guest stars being booked for Ross to interview, a fact the host himself has apparently acknowledged.
Talking about ITV's failed bid for Alan Carr, a source told Mirror reporter Mark Jefferies: "ITV felt they could make him even more mainstream and popular and pull in five million viewers with his shows. But for now, their only chat show host is Wossy."
Justin Gorman, Channel 4's Head Of Entertainment, confirmed they are going to continue working with Alan Carr until at least 2015, saying: "Alan embodies what is the heart of Channel 4 Entertainment; He's warm, witty and a little bit wild. We're really chuffed to bits that he's staying with us and we look forward to celebrating, over a sherry or two, his 100th episode of Chatty Man later in the year."
Meanwhile, the host himself has says of the deal: "Ecstatic; I really love being part of the Channel 4 family where I can just be myself and let down my hair, what's left of it!"
Chatty Man is currently in its 10th series. This Friday, Carr will be joined by Professor Brian Cox who talks about his new series Science Britannica; while Anna Friel will discuss her latest film, comedy biopic The Look Of Love. Paul Gascoigne is also due in the studio, and Fall Out Boy will perform their latest single, My Songs Know What You Did in the Dark.
The new Channel 4 deal is also said to include the opportunity for Alan Carr to record a sitcom pilot. There is little detail known about the project yet, but it was reported last year that the stand-up star was indeed writing a script in the hope of making and starring in a situation comedy.
He told The Daily Star in March 2012: "I'm writing a sitcommy thing. I'm not saying too much because you might not think it's funny but I am laughing out loud all the time. Let's see what happens. I do like writing jokes. I don't see why I shouldn't write a sitcom. I'm a huge fan of them."
Hinting at the potential tone of the comedy, Carr added: "I'd like it to be like Rising Damp. I'd like to be a Rigsby character. I'd love to be the lusty landlord with a tenant underneath me. In fact, I'd love quite a few nice-looking tenants beneath me actually!"
Below is a video from Alan Carr's New Year's Eve Specstacular in which the comedian plays One Direction star Harry Styles.
Share this page