Jon Hamm and Daniel Radcliffe to return to Sky Arts
Jon Hamm and Daniel Radcliffe to return to Sky Arts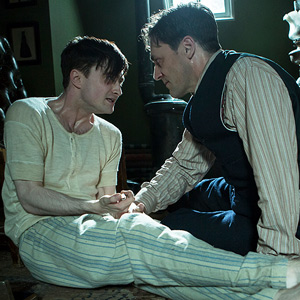 A Young Doctor's Notebook, a period comedy drama based on the works of Russian playwright Mikhail Bulgakov, is to return to Sky Arts for a second series.
Broadcast as part of the channel's successful Playhouse Presents strand, a four-part series aired in December 2012, starring Hollywood A-listers Jon Hamm (Mad Men) and Daniel Radcliffe (Harry Potter) as the same doctor at different stages of his life.
Set in the early 20th Century and based on Bulgakov's collection of short stories based on his own real-life experiences, A Country Doctor's Notebook, the series follows a recently-graduated young medic (Radcliffe) who is forced to say farewell to life in bustling Moscow to take up a post as a doctor in a small, remote hospital a thousand miles from the capital, and half a day's journey from the nearest shop.
Hamm plays the young doctor 17 years on, who finds his old diary while answering to the authorities about self-prescribing morphine. He has a series of comic exchanges with his young and inexperienced self, mocking him for his youthful looks and guiding him through his early difficulties on the job.
James Hunt, the director of Sky Arts, last night described the comedy drama as "the most successful series we have ever done". The Guardian reports that the show attracted almost 800,000 viewers to the channel - although overnight ratings for the second episode were just 180,000.
Penned by comedy writers Mark Chappell, Shaun Pye and Alan Connor, the first series refused to pull any punches in its depiction of the blood and gore of the rural doctor's life. Its four episodes were filmed in just 20 days last Summer in a mutual break in Radcliffe and Hamm's hectic schedules.
Kenton Allen, one of the executive producers of the series and the head of production company Big Talk, told The Guardian today: "We are developing scripts for a second series in the hope we can find a time when Jon and Daniel are available to shoot later this year. They both loved working together on the first series and we all want to do it again, schedules permitting."
Should time indeed be found for the filming of a second series this year, its formal commission will be announced in coming months. Sky Arts would be likely to wish to transmit the show in a similar Winter schedule slot to the first series, which aired on the four consecutive Thursday evenings of December 2012.
The complete first series of A Young Doctor's Notebook is now available to buy on DVD.
Here is the trailer for the first series of the comedy:
Share this page