BBC One orders silent comedy series from Matt Lucas
BBC One orders silent comedy series from Matt Lucas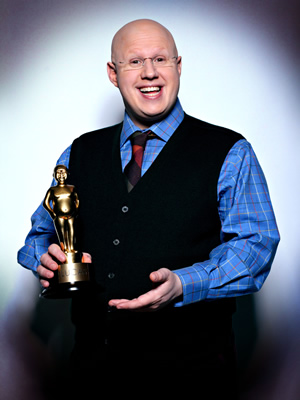 Comedian and actor Matt Lucas, best known for his role in sketch show hit Little Britain, will star in a new dialogue-free comedy series for BBC One.
Currently titled Pompidou, the silent series has been devised and written by Lucas alongside Julian Dutton and Ashley Blaker - the latter of whom he also works with to make panel show The Matt Lucas Awards (pictured).
The star explains: "I've been working for a while with two great writers - Julian Dutton and Ashley Blaker - to create a bunch of new faces which we hope will appeal to audiences in Britain and beyond. At the centre of it is Pompidou himself, an elderly aristocratic English oddball who has fallen on hard times but who remains upbeat and resourceful.
"I'm delighted to be back at the BBC with another show full of new characters - however, unlike Little Britain and Come Fly With Me, this one has no dialogue at all. I've always been a huge fan of the visual comedy of Charlie Chaplin, Laurel and Hardy and of course, Mr Bean."
The BBC say that the series will also feature guest appearances from some of the world's "finest physical comedy performers".
This will be Lucas's first solo authored narrative series, but fans will have to wait a while to see the show - Pompidou is planned for a prime-time broadcast late in 2014.
Comedy Commissioner Shane Allen says of the project: "The concept is wonderfully imaginative, the writing hugely inventive and it's the perfect vehicle for Matt - one of a handful of performers in the whole world who could pull this off. A sleep-deprivingly exciting project."
BBC One head, Danny Cohen, adds: "Matt's new project is wonderfully original and ambitious. I can't wait to see what he and his talented team produce."
The 6-part series will be produced by Lucas's own John Stanley Productions. Come Fly With Me, Lucas's previous mockumentary sitcom/sketch show crossover project with long-term collaborator David Walliams, had been commissioned for a second series by the BBC, but plans for the comedy have now been shelved.
Silent comedy would appear to be facing a revival of sorts. Five weeks go presenting duo Ant & Dec revealed that they are looking to develop their own silent sitcom. Recently characterised by international hit Mr. Bean, 'silent' comedies feature no explicit dialogue, but are peppered with sound effects, meticulously-crafted visual humour, and vocal grunts.
The Matt Lucas Awards, also produced by John Stanley, is currently airing on BBC One on Tuesday nights. Lucas, who has recently been living in America with Bridesmaids co-star Rebel Wilson, recently took the lead role in US film Small Apartments. He also has a role in new Steve Coogan film The Look Of Love, due for release on Friday 26th April.
Share this page