Nick Frost to star in Sky Atlantic's 1960s-set series Mr Sloane
Nick Frost to star in Sky Atlantic's 1960s-set series Mr Sloane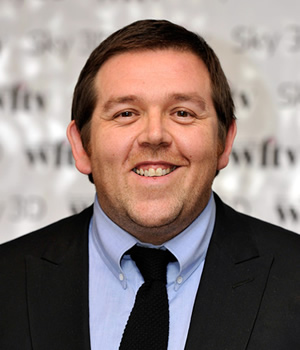 Nick Frost will take the lead role in Mr Sloane, a new Sky Atlantic comedy series.
The Spaced, Shaun Of The Dead and Snow White star is set to start filming the bittersweet romantic comedy next month. In the show he will play Sloane, a buttoned-down 1960s man in crisis.
Between his failed attempts at marriage, career success and even suicide, it's fair to say that 1969 isn't shaping up to be Watford-dweller Mr Sloane's year. However, the show asks: "With a potential job opportunity on the horizon and the phone number of a prospective new love interest following a chance encounter in his local hardware store, could Mr Sloane's luck be about to change?"
Mr Sloane has been created by, and will be directed by Robert B. Weide, the American screenwriter and producer perhaps best known for his work on documentaries and hit US sitcom Curb Your Enthusiasm. Weide has written the show with help from British television writers Aschlin Ditta (The Catherine Tate Show) and Oliver Lansley (Whites, The Best Possible Taste).
On his involvement in the project, Nick Frost says: "Original and off-beat, I loved Bob's idea for Mr Sloane and fell in love with this character straight away so I'm chuffed to be a part of the project and can't wait to start filming."
Talking about working with Frost, Robert B. Weide says: "Nick is not only a very funny guy, but a very talented actor. I had no specific agenda to create a show for him, but out of the blue, an idea came to me that was entirely character-driven, and I immediately saw Nick as that character. I pitched it to him, and he said, 'Let's do it.'"
The series is a co-production between Weide's Whyaduck Productions and Big Talk Productions, the production company behind hit shows including Him & Her and Rev., plus films Frost has starred in such as Paul and Attack The Block.
Sky commissioner Lucy Lumsden comments: "Sky Atlantic is a place for world class artists to shine and we are delighted to have a new recruit in the form of Mr Sloane. With the combined talents of US director and writer Bob Weide and our very own Nick Frost, we are in for a real treat and look forward to sharing the results with our customers."
This commission is part of Sky's strategy to commission comedy across all of its main portfolio of channels. Other forthcoming Sky Atlantic projects include a second series for both Alan Partridge's Mid Morning Matters and This Is Jinsy, and new stand-up format Set List.
Mr Sloane will begin filming next month, but comedy fans will have till 2014 to see the series. When it does broadcast next year, it will launch with a one-hour special, followed by five half hour episodes.
Nick Frost is perhaps now best known as a movie star. The comic actor has will be seen in The World's End with long-time collaborators Simon Pegg and director Edgar Wright in August. The film, the final of the so-called Three Flavours Cornetto trilogy, focusses on a group of middle-aged men trying to recreate an epic pub crawl twenty years after they first attempted it. Frost has also just finished filming Cuban Fury, a romantic comedy set around the world of salsa dancing.
Share this page