US re-make of NHS comedy Getting On goes to series
US re-make of NHS comedy Getting On goes to series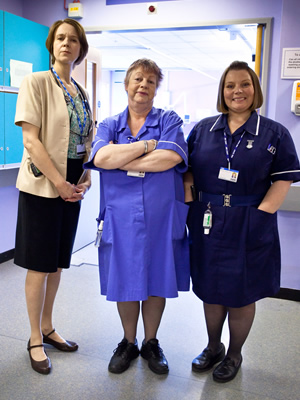 US TV network HBO has ordered a full series re-make of Getting On, the low-key BBC Four comedy set in a hospital ward.
The premium station ordered a non-broadcast pilot episode last summer, and following a review of the episode it has now commissioned a six episode series.
The UK version of Getting On is a BAFTA-winning downbeat and naturalistic comedy, set in the geriatric ward of an NHS hospital. Filmed in a mockumentary style, it focusses on the work of three of the unit's staff. The show was launched in 2009, with 15 episodes having been produced to date.
A Vera production, the show is written by and stars Jo Brand, Joanna Scanlan and Vicki Pepperdine, and the trio will act as executive producers on the HBO re-make in conjunction with producer Geoff Atkinson and BBC Worldwide executives.
Writing on Twitter, Pepperdine posted: "Yes so Getting On commissioned by HBO for a series". She later revealed her feelings, in reply to a message of congratulations, saying: "We are a tiny bit over the fucking moon".
The existing scripts are being adapted for American audiences by Mark Olsen and Will Scheffer, a duo who have previously worked with HBO to create Big Love, a drama series about a fundamentalist Mormon family in Utah.
Speaking when the pilot was announced, Scheffer said: "When we proposed the reformat to BBC Worldwide and HBO, the issues in elder care were very personal to both of us - Mark's and my mother were in their 90s and attending to their care had come to be a big part of our lives. Getting On nailed that world with its deadpan humour and deep humanity."
The actresses who will play the main staff in the new version have also been named. They are Laurie Metcalf, perhaps best known for playing Jackie in long-running sitcom Roseanne; Alex Borstein, who voices Lois Griffin in top animated comedy Family Guy; and Niecy Nash, who was Deputy Williams in Reno 911!.
HBO has already been involved in a number of UK-US productions. Notably, the subscription-based network produced The Ricky Gervais Show, the animated programme based on the podcasts hosted by Ricky Gervais, and worked with Armando Iannucci and the creative team behind The Thick Of It to launch its American equivalent, Veep.
HBO has also ordered a full series of Hello Ladies, a sitcom which is being written by and will star Stephen Merchant. Loosely based on the premise of his 2011 live stand-up tour, the series will see Merchant playing an Englishman looking for love in Los Angeles.
America is increasingly looking to the UK comedy market for ideas. Other British sitcoms currently being piloted for US audiences include Gavin & Stacey, Spy, Pulling and Feel The Force, whilst a full series of Family Tools, an adptation of BBC Three's White Van Man, will launch on Disney's ABC network in May.
The most recent series of Getting On was shown in October and November last year. No announcement has been made about a fourth series for British viewers yet, although it is understood BBC Four is keen to order more.
Joanna Scanlan and Vicki Pepperdine are currently working together on a new sitcom. Called Puppy Love, the show is a family comedy about training dogs and "how people relate to their pets". The pair are currently in the North West of England filming the pilot episode.
The HBO version of Getting On will be filmed later this year.
Here's a clip from the last series of Getting On, in which Doctor Pippa Moore, talking to trainee doctors, manages to give a hypochondriac patient some new ideas:
Share this page