Reeves & Mortimer sitcom details revealed
Reeves & Mortimer sitcom details revealed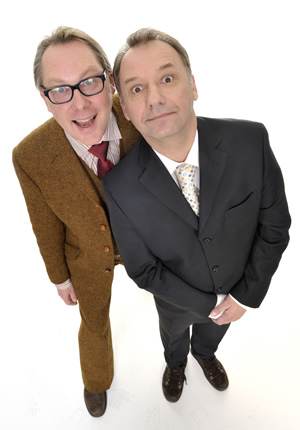 Plot and casting details of a highly anticipated new sitcom pilot from cult comedy duo Vic Reeves and Bob Mortimer have been revealed.
A not-for-broadcast pilot for Vic And Bob's House Of Fools will be recorded at BBC Television Centre next Friday, 22nd March. The project's existence was reported last month, although little detail could be confirmed at the time.
The sitcom's plot is described as follows: "What do comedy stars Vic Reeves and Bob Mortimer actually do when they're not on the telly together? They live together, in Bob's flat. Unfortunately for Bob.
"They also share the flat with Bob's Norwegian son, Erik, who has absolutely no time at all for his father, and next door is their landlady, Julie, who lives in a haze of imagined fantasies."
The flat is said to play host to a "constant stream" of mostly unwelcome visitors, notably romantic lothario Beef and a Geordie ex-con, Bosh. The pilot will follow Bob's attempt to organise his first date in more than six months.
VIP star Morgana Robinson will feature as landlady Julie in the pilot, whilst Dan Skinner - who found fame on Vic & Bob's panel show Shooting Stars as comedy character Angelos Epithemiou - will play Bosh.
Meanwhile, cult comedy hero Matt Berry is set to play Beef, and Norwegian stand-up Daniel Simonsen will co-star as Bob's son, Erik.
Producers conclude: "Just as they bent the rules of the panel show format, Vic And Bob's House Of Fools does the same to the studio sitcom. It's half an hour of unadulterated Reeves and Mortimer, anarchic japes, unimaginable props and impossible situations with a stellar cast."
In an increasingly common practice for BBC sitcoms, tickets are available for both an afternoon, normally a dress rehearsal, and an evening performance on the day of recording. To apply to be in the audience see our free tickets page
Here is the first part of Catterick, Reeves and Mortimer's 2005 BBC Three sitcom.
Share this page