Last Leg gets third series commission
Last Leg gets third series commission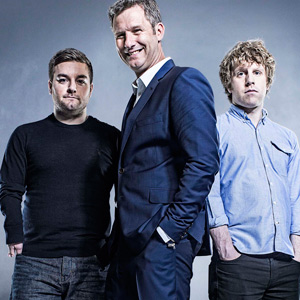 The Last Leg is to return to Channel 4 for a second weekly series.
The topical discussion show launched as a nightly programme during the 2012 Paralympic Games, tracking the day's sporting news, "confronting some of the widely held views associated with Paralympic sport, and answering the questions viewers were always afraid to ask".
The format proved popular enough that it was revived for an end of year round-up, broadcast on 30th December 2012, and commissioned as a weekly topical chat and review show, running in a prime time Friday night slot from the end of January 2013.
Today, Channel 4 confirmed that the show will return for a third run - its second in the new weekly format - again presented by Australian comic Adam Hills, who has a false leg, with regular guests Alex Brooker and Josh Widdicombe.
The third series of The Last Leg is expected to be broadcast late this year. Series 2 takes a break this week as the BBC's Red Nose Day telethon takes over Friday night's schedules, but will return next Friday, the 22nd March, for the eighth of nine episodes.
Meanwhile, Channel 4 reaffirmed September's recommission of disability prank show I'm Spazticus, a second series of which is expected to be broadcast later this year.
Here's a clip from The Last Leg in which presenter Adam Hills berates American comic Joan Rivers for making 'fat' jibes at singer Adele.
Share this page