Sky cancels generation gap comedy Parents
Sky cancels generation gap comedy Parents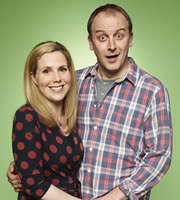 Parents, the Sky1 generation gap comedy starring Sally Phillips, has been cancelled after just one series.
The six-part Objective Productions sitcom was broadcast during July and August 2012, following the stresses of Jenny Pope (Phillips), who, after losing her high-paid job, is forced to move from a spacious London home with her loser husband and two teenage children, and back in with her parents in Kettering.
Written by Lloyd Woolf and Joe Tucker, Parents starred Phillips alongside Darren Strange as husband Nick; Tom Conti and Susie Blake as her stifling parents; with Jadie Rose Hobson and Christian Lees as children Becky and Sam.
The cancellation of Parents, which failed to gain any notable fanbase, follows the news of the channel's multi award-winning sitcom Spy also meeting the same fate after two popular series.
A Sky spokesperson told blog TVWise: "While Parents won't be returning to Sky1 we are extremely proud of the show, its writers and cast. It's been a key part of introducing a new smart tone into our pre-watershed comedies and we are discussing future projects with the team."
Sky1 have been investing millions of pounds in original British comedy commissions over the past 4 years, and the only comedy to have been cancelled previously was 2011 panel show failure Wall Of Fame, hosted by David Walliams.
Comedies returning to the channel include Stella, A League Of Their Own, A Touch Of Cloth and Moone Boy. New commissions include Chickens.
Here's a trailer for Parents:
The following clip is a short interview with stars Tom Conti and Sally Phillips.
Share this page